Lets Talk About Pumpkin Soup
Let's face it, pumpkin soup season is upon us, and I'm sure for many of us it is a solid winter dish. But let's not get bored too early and make assumptions about ye olde squash. Here's what I've been exploring lately…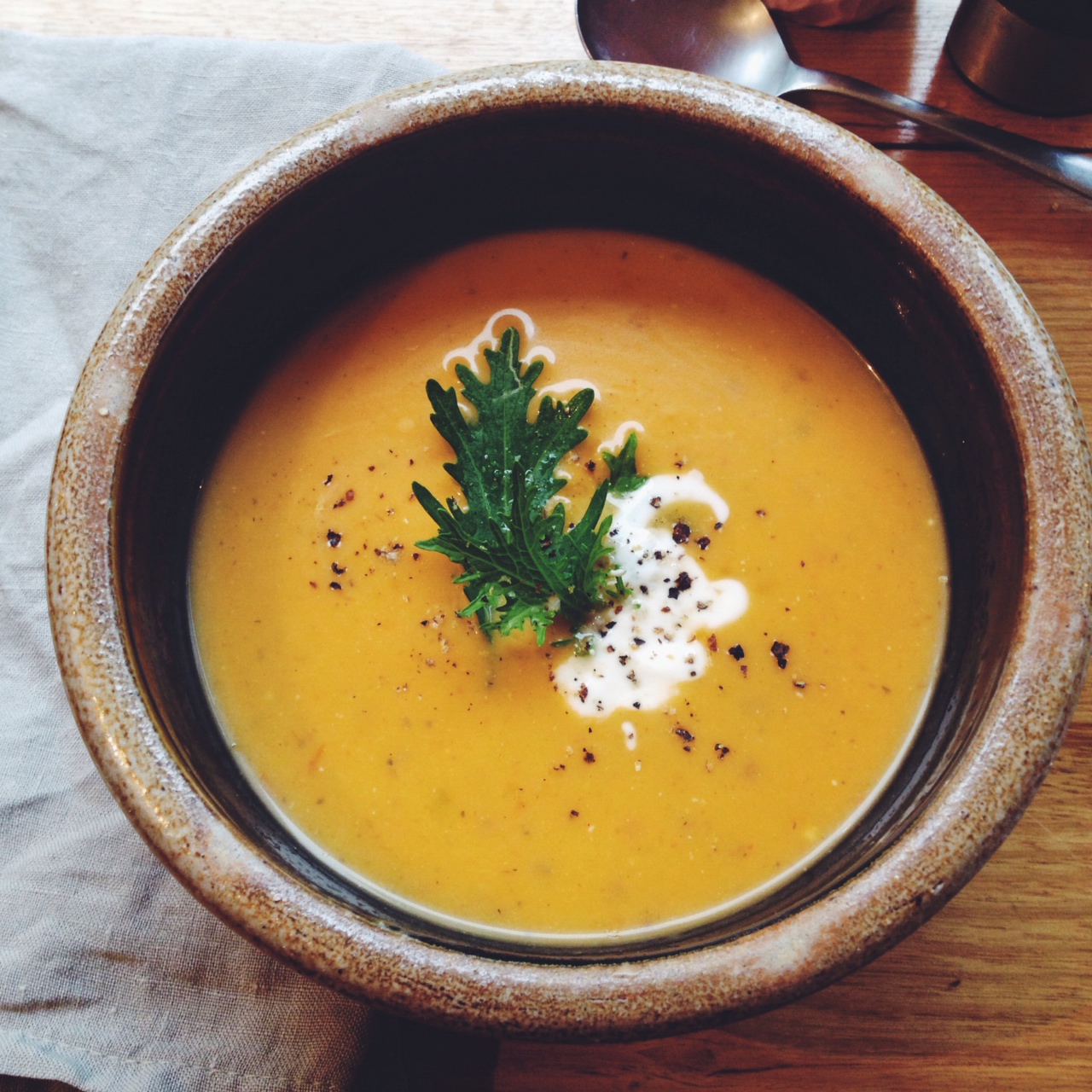 Ingredients
Beautiful pumpkin! Jap, butternut, golden nuggets, jarrahdale, greys and trombones...
also
*chestnuts!!
*coconut cream
*thai curry paste
*dukkah
*sage
*whole nutmeg *cream/yoghurt
Method
Let's face it, pumpkin soup season is upon us, and I'm sure for many of us it is a solid winter dish. But let's not get bored too early and make assumptions about ye olde squash. Here's what I've been exploring lately…
Basic Soup: Sweat onion, garlic, and a bay leaf in olive oil (and butter if you like it like I do). Add chunks of peeled pumpkin, a little potato and paprika and cover with water or stock to simmer until tender. Blend together with a stick/benchtop blender or food processor. Add cream or yoghurt if you like, and parsley or something fresh and green on top for extra life. Season liberally
Thai Coconut: Fry a couple of tablespoons of red or green Thai curry paste with coconut oil, before adding the usual veggies. You could also add extra grated ginger and/or lemongrass. Once the soup ingredients are tender, blend together and whisk in a tin of coconut milk. Top with coriander leaves
Autumn Chestnuts: Make the most of sweet jumbo chestnuts by combining them with a basic pumpkin soup for a special autumn treat. Chestnuts need to be scored (cut a small slit or cross with a knife) and then either boiled or roasted for about 40 mins before peeling the shell away. Add to an almost finished soup, along with simmered farro or freekah grains. Leave it chunky for a rustic autumn meal by the fire. *Grab fresh chestnuts this autumn in the Extras section of the webstore, they've just come in from Beechworth and are amazing!
What about these pumpkin soup friends:
Dukkah Fry onions, garlic and pumpkin with your pantry's dukkah before adding pumpkin and stock, and sprinkle a little on top to serve
Sage fried in butter Crispy sage bits atop a warm soup, yes please!
Wild Greens Add some chopped up wild greens like chickweed, nettles and mallow. Let them wilt in the hot soup
Fresh nutmeg Finely grate some fresh nutmeg and you can't go wrong. Actually any of those allspice-style flavours take pumpkin to a warming festive place
Pumpkin seeds can be washed and dried (on a sunny table or overnight in a low oven), then roast for 15mins with salt flakes, cumin seeds, paprika, chickpeas etc and enjoy as a snack
What do you do to keep pumpkin soup from getting old at your house? Share your tips and tricks so we can all be prepared for a cosy cool season in the kitchen.