Choc Tahini Date Slice
We're officially thinking about picnics and can confidently say this vegan, no-bake slice would go down well al fresco.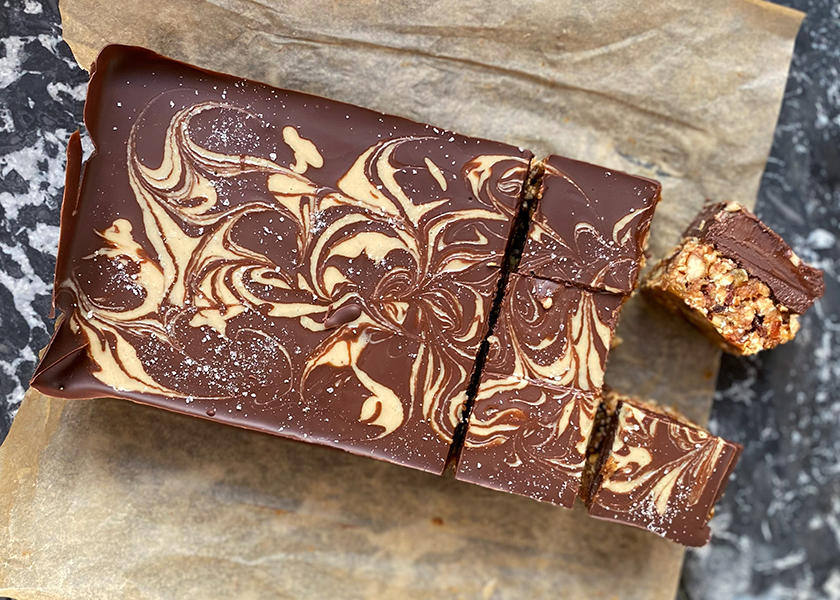 Serves 15
Ingredients
1 heaping cup of medjool dates, pits removed and finely chopped
1 cup of quick oats
1 cup of pecans or walnuts or a mix of both
1/2 tsp cinnamon
1/2 tsp salt
1/2 cup of boiling hot oat milk or milk of your choice
300g dark chocolate – this is how much we used when we photographed this recipe and to be honest, we probably should have halved it. If you're a chocoholic then by all means use it all, but if you're gifting it to someone with dentures halve this quantity!
Tahini – a tsp or two
Flaky salt to garnish
Method
We're officially thinking about picnics and can confidently say this vegan slice would go down well al fresco. It might be a healthy treat, but don't let that discourage you – there are enough decadent, energy-rich ingredients to satisfy even the sweetest tooths. This recipe comes together quickly and with only a small amount of oven time, so it's great for little hands that are keen on getting in the kitchen – enjoy!

Choc Tahini Date Slice:

Place whole nuts on a baking tray and roast in the oven at 160°C for about ten minutes. Remove and chop finely.
In a mixing bowl combine dates, oats, nuts, cinnamon, salt, and milk and stir until everything is evenly mixed. Transfer to a lined loaf pan. Smooth out mixture evenly with a spoon and refrigerate for 20 minutes.
Microwave chocolate in 30 second increments until fully melted. Remove the date/oat/pecan mixture from the refrigerator and pour melted chocolate on top. Rotate the brownie pan around to spread chocolate evenly. Spoon tahini evenly over the chocolate layer, and using a toothpick swirl tahini into chocolate. Garnish with flaky salt.
Refrigerate mixture for at least 30 minutes.  When ready to slice, soak the knife in hot water and very slowly make cuts. This will ensure the chocolate layer does not crack in unwanted places.