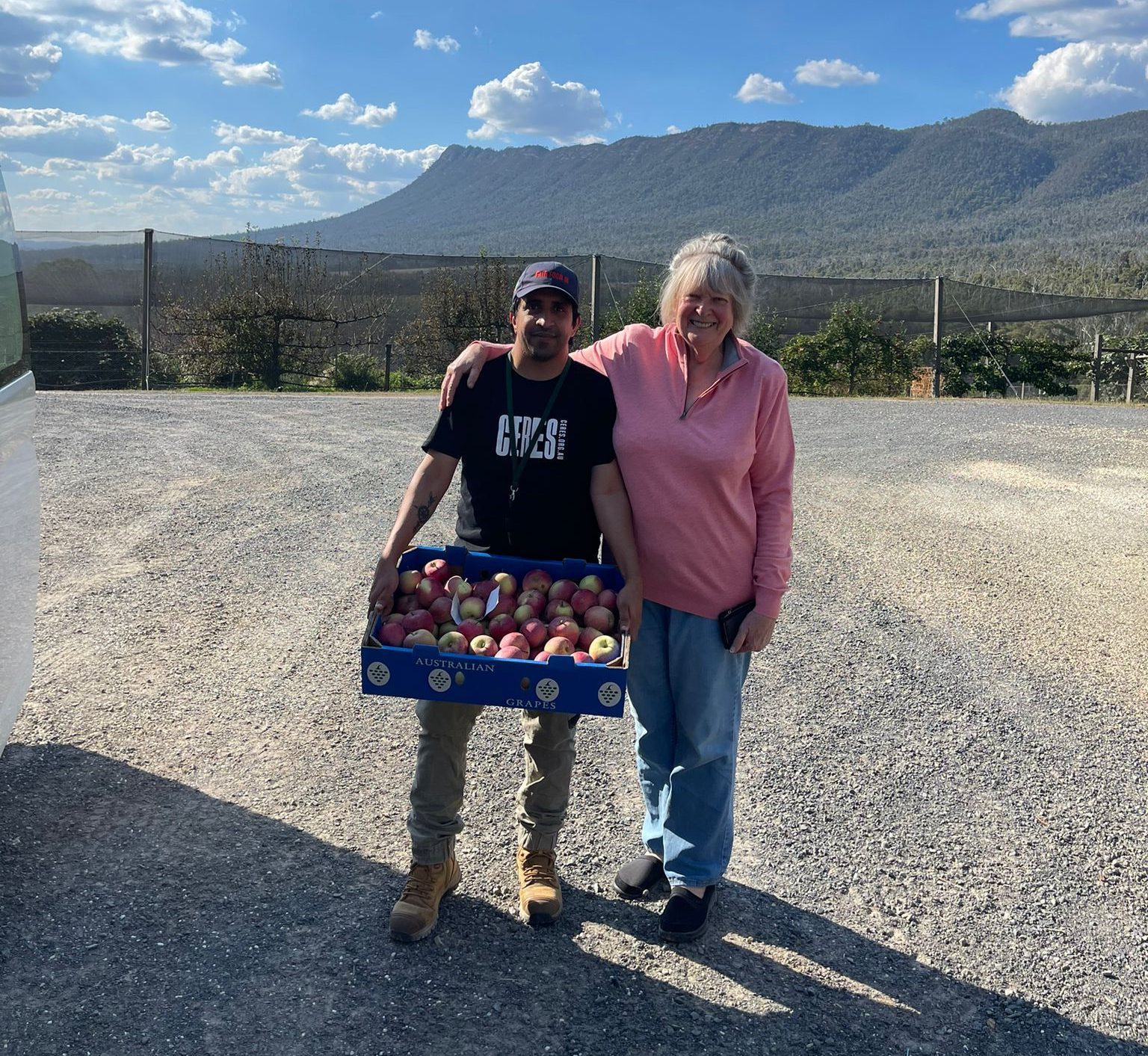 Gold nuggets up at Noleen's
When I call her, Noleen Glavish is holding a ladder while a friend plugs a hole in her roof to stop the bats getting in.
Noleen runs Emmaline Farm, a small property tucked below the Cathedral Ranges near Buxton in Taungurung Country.
Noleen began farming seriously after her marriage ended in the mid-2000's. From running a publishing company in Clifton Hill she traded a thoroughly inner-city existence to grow fruit and veg.
The transition wasn't easy, working out what she could grow, finding places to sell it. There was the drought and then the Black Saturday fires came and took out Noleen's orchard and almost the house.
But people helped and Noleen kept going.
I remember when Noleen announced herself at the Fair Food warehouse with some of the biggest, purplest, most pungent garlic I'd ever seen.
It was no fluke – no matter what Noleen grows, and she grows a lot of things, her produce is always amazing.
On her list this year there is;
· Lebanese cucumbers
· Heritage cherry toms
· Garlic
· Blueberries
· Blackberries
· Raspberries
· Sweet dumpling squash
· Golden nugget and potkin pumpkins
· Six types of apples including fujis, golden del, gala, granny,
· Six types of pears including winter nellis, packham, Williams, buere bosc, & nashis
· Red peppers
· Kiwifruit
· Lemons
· Chillies
· Feijoas in a week or two
Last weekend Mo Nabaie, Fair Food's Production Supervisor went up to Emmaline Farm to pick up a load of Noleen's pumpkins and apples – it was his first time back at Noleen's in a few months.
Last year, Noleen invited Mo to come and see the farm – Mo and his friend Farouk spent a couple of hours picking berries and different coloured heritage tomatoes beneath the Cathedral Ranges and fell in love with the place.
Noleen jokes darkly that not long after Mo's first visit she died twice – two pulmonary embolisms almost finished her farming career for good.
While Noleen was recovering Mo drove out to Emmaline each week to bring her produce back to the Fair Food warehouse.
As we talk Noleen reminds me her relationship with CERES has been going on for fifteen years now. It's a beautiful and evolving connection that goes beyond business.
And next week another little strand is added as Farouk, who's a painter, heads back up to Emmaline Farm to do some painting in Noleen's house.
Noleen's Gold Nugget pumpkins will feature in this week's set fruit and veg boxes.
Have a great week
Chris