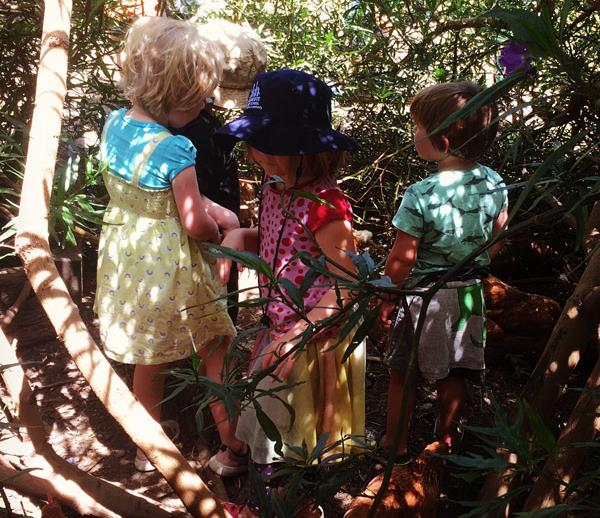 Dirty, exposed and quite possibly dangerous
I first saw them one morning riding to work along the Darebin Creek path. Clusters of three and four year old's running in and out of the bushes while a couple of adults watched on unconcerned at a distance.
I couldn't be sure what they were doing but I saw them the following week and every week after, no matter what the weather, rugged up in their jackets and cute beanies earnestly playing.
It all seemed so unstructured, dirty, exposed and quite possibly dangerous – I was fascinated.
This, I would come to learn, was bush kinder – pioneered in Australia by Doug Fargher, an educator at Westgarth Kindergarten, who had a vision for an outside classroom where learning was unplanned, lessons unpredictable and the play was driven by the kids.
Fargher, with the support of enthusiastic parents had to overcome bureaucratic hurdles and a perception that outside was the place to blow off steam and inside was where children learned.
The world's first Naturbørnehaven aka forest school was, of course, founded in Denmark.
With a post-war shortage of indoor spaces parent, Ella Flautau, and her neighbours' kids began gathering in a nearby forest.
Learning was led by the children who played and discovered as they went, adults were only called on when help was needed.
Other parents heard about Flautau's Naturbørnehaven aka forest school and began starting their own – today there are around 1500 forest schools across Denmark.
Similar initiatives soon followed in Sweden, Germany, Japan, the United States and have since spread to dozens of other countries.
Practitioners believe forest school's connection to nature improves children's levels of fitness, motor skills and social and emotional development and are an antidote to childhood obesity, attention deficit disorders, hyperactivity and depression.
Researching Naturbørnehavens after emerging from two COVID affected weeks of negotiating the world through Zoom and I'm feeling like if there was a bush kinder option for adults I would be first in line and if someone offered a bushkinder MBA I'd go back to school…
CERES Nature Playgroup for kids, at Brunswick East and Joe's Garden, is beginning in Term 2 – you can find out more here.