Vegan Cashew Cream Pasta
Vegan cashew cream pasta is a great dairy free version of your traditional creamy pasta recipe, with the protein power of cashews & chickpeas.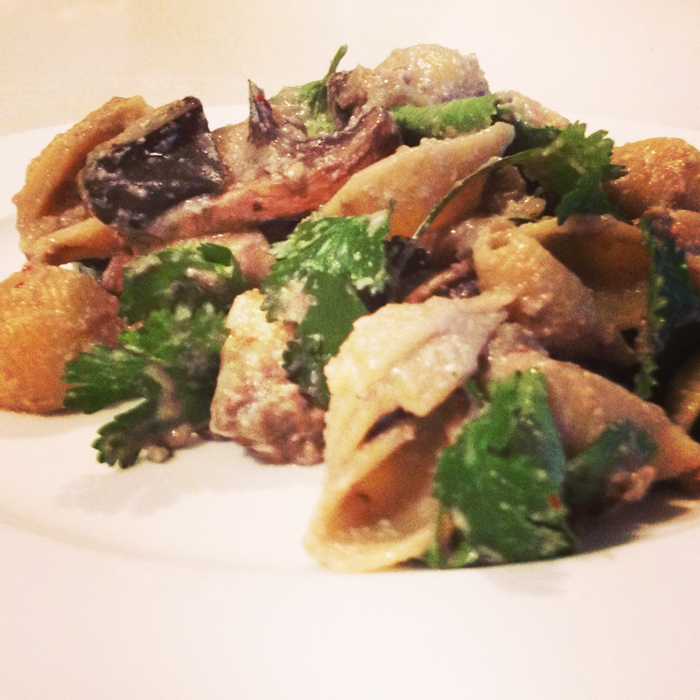 Serves 4-5
Ingredients
½ cup raw cashews
½ cup hot water
1 cup vegetable stock
1 clove garlic
Squeeze of lemon juice
100g per person of favourite vegan pasta
1 tbsp olive oil for frying
1 large brown onion, thinly sliced
200g mushrooms, sliced
1 small eggplant, disgorged and cubed
1 bunch kale or spinach, stems removed and leaves thinly sliced
1 cup canned chickpeas, rinsed and drained
1 teaspoon paprika
½ teaspoon salt
Freshly ground black pepper, to taste
4 tbsp basil, coriander or parsley leaves for garnish
Method
Vegan cashew cream pasta is a great dairy free version of your traditional creamy pasta recipe. The veggie stock takes care of the salty aspect, while the cashews & chickpeas make this a protein rich & velvety way of getting warm wintery veg on your dinner table in a flash. From beginning to end, this recipe shouldn't take you more than 45 mins the first time round. Once you've got a handle on making Vegan Cashew Cream Pasta, then you'll have the whole things wrapped up in no time.
Start by soaking the raw cashews in a bowl of hot water for 20 mins. You can leave them to soak in the fridge overnight or while your at work if you like.

Boil the kettle or put a pot of water to boil on the stove for the pasta.

Rinse and drain the cashews, then blend in a food processor with stock, paprika, garlic and lemon.

Heat oil in a large, deep-set frying pan, then brown the onion and mushroom. Once browned, add the kale and eggplant and fry until soft. If you're using spinach, you may like to hold off on adding it until step 6 when the cream goes in and the heat comes down.

Add the pasta to the pot of boiling water, with a little oil & salt if you like.

Mix the cashew cream and chickpeas into the pan with the other veggies on low heat until warmed. You may not need to use all of it.

Add spinach at this stage, if you're using it, and cook until just wilted.

Once the pasta is cooked (approx. 10-12 mins), wash and drain, then add your pasta to the pan and combine with the creamy veggies.

Add salt and pepper to taste. Serve with the herb leaves you have on hand, tossed through the vegan cashew cream pasta. Though it sounds naughty, make sure you "spank," clap or slap your fresh herbs before you pop them in… to bring out their full aroma.