Quinoa and Sweet Potato Dumplings
Chatelaine's Quinoa and Sweet Potato Dumplings recipe. From the Alzheimer's Prevention Cookbook by Dr. Marwan Sabbagh & Beau MacMillan.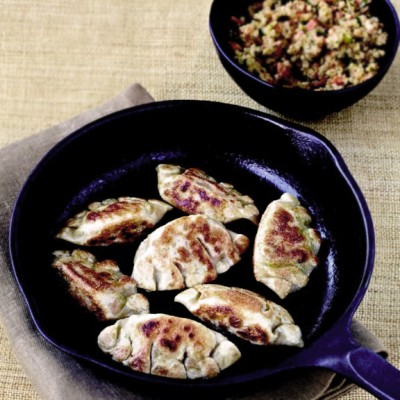 Serves 8-12
Ingredients
Dough
2 cups all-purpose flour, plus more for dusting
1 cup boiling water
Filling
1 sweet potato (about 225g)
1 cup quinoa, rinsed and drained
2 cups water
2 tsp vegetable oil
1 tsp peeled, minced
Fresh ginger
1 tsp minced garlic
1 tsp curry powder
2 Tbsp chopped fresh coriander
1 tsp lemon juice
1/4 cup low fat plain yogurt
Salt and freshly ground black pepper
Vegetable oil for frying
Method
Chatelaine's Quinoa and Sweet Potato Dumplings recipe – from The Alzheimer's Prevention Cookbook by Dr. Marwan Sabbagh and Beau MacMillan
"Quinoa is a very nutritious source of protein, and it makes a nice substitute for couscous with its nutty flavour. These dumplings integrate many healthy ingredients including anti-inflammatory ginger, antioxidant curry powder, and vitamin-rich sweet potatoes. Curry powder contains turmeric, a spice that may contribute to the reduced incidence of Alzheimer's disease in India. Though the dumpling dough takes some time and effort to make and roll out, you can use wonton or pot-sticker wrappers as a quick alternative. Be aware however that you'll need to cut the wrappers into 2-inch circles with a cookie cutter before filling them."
To make the dough, place the flour in a large bowl.  Slowly add the boiling water while stirring with a fork. Once all the water is mixed in, turn the dough out onto a lightly floured work surface. Dust your hands with some flour and knead by hand for about 3 minutes, or until the dough is worked into a firmer ball and the stickiness is gone. Keep adding flour to your hands to facilitate this process. Form the dough into a ball, wrap in plastic wrap, and refrigerate for 45 minutes.
Cut the dough ball in half. Working with one piece at a time, roll out each half on a lightly floured work surface into a sheet about 1/8 inch thick. Use a 2-inch round cookie cutter to cut out about 32 circles.
Preheat the oven to 160 degree Celsius. To make the filling, pierce the skin of the sweet potato with a fork several times, then place in the oven on a baking sheet and roast for 45 minutes, or until soft. Let the sweet potato cool for 15 minutes in the refrigerator, peel the skin, and then finely chop the sweet potato.
To cook the quinoa, combine the quinoa and water in a medium saucepan and bring to a boil over high heat, then reduce to low heat, cover, and simmer until the water evaporates, about 15 minutes. Fluff with a fork.
In a large skillet over medium-high heat, warm the oil. Add the ginger and garlic, and cook, stirring, until fragrant, about 1 minute. Add the curry powder, cilantro, lemon juice, sweet potato, and quinoa and cook, stirring, just until the ingredients are well combined. Transfer to a medium bowl and stir in the yoghurt.
Season to taste with salt and pepper, cover, and refrigerate while preparing the dough.
To fill the dumplings, lay out a few dough circles on the work surface. Spoon about 2 tablespoons of filling onto each circle. Fold over into a half-moon shape, and pinch the edges with your fingers. If the edges aren't sticking, you can lightly brush the outsides of the circle with water before pinching together to bind the edges. Place the dumplings on a plate and cover with a damp towel to keep them from drying out before cooking (while you're forming the rest of the dumplings).
To cook the dumplings, bring a large pot of salted water to a boil over high heat. Add the dumplings in batches (8 to 10 at a time) and boil for 1 to 2 minutes. Remove the dumplings from the water with a slotted spoon. In a large nonstick skillet over medium heat, warm about 2 tablespoons of oil. Add as many dumplings as will comfortably fit in a single layer and cook until browned on all sides, about 30 seconds on each side, flipping them over so they evenly brown on both sides. Repeat to brown the remaining dumplings.
Serve immediately, with the dipping sauce of your choice.
Excerpted from The Alzheimer's Prevention Cookbook by Dr. Marwan Sabbagh and Beau MacMillan Copyright © 2012 by Dr. Marwan Sabbagh and Beau MacMillan. Excerpted by permission of Ten Speed Press, a division of Random House, Inc. All rights reserved.