Mulled Wine
Roast some fresh chestnuts on the fire, and wash down the nutty moorish sweetness with some homemade mulled wine.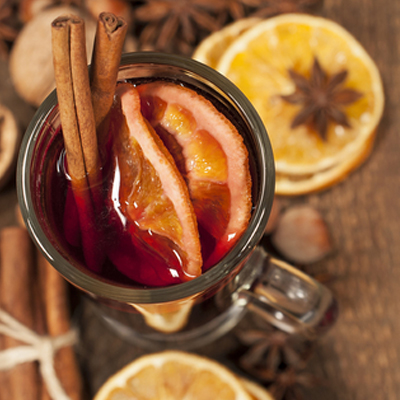 Serves 10
Ingredients
2 bottles of light red wine
2 mandarins or 1 large orange
1 lemon
1 Lime
200g caster sugar
6 whole cloves
1 stick of cinnamon
3 bay leaves
2 tsp grated nutmeg
1 tsp good quality vanilla bean paste
2 star anise
Method
Adapted from Jamie Oliver's easy-as Mulled Wine Recipe, this batch of mulled wine is made using good quality spices, and left to mull on the stovetop so all the wonderful flavours fuse, making it a brilliant Winter warmer.
Using a peeler, take large sections of peel from the mandarin/orange, lemon and lime.

Put the sugar in a large saucepan over a medium heat, add the pieces of peel and squeeze in mandarin juice. Add the cloves, cinnamon stick, bay leaves and about 10-12 gratings of nutmeg (you can use 2 tsps ground nutmeg if you have to).

Then add the vanilla and stir in just enough red wine to cover the sugar. 

Let this simmer until the sugar has completely dissolved into the red wine and then bring to the boil. Keep on a rolling boil for about 4-5 minutes, or until you've got a beautiful thick syrup.
It's important to make a syrup base first because it needs to be quite hot for the flavours to infuse, and if you do this with both bottles of wine you'll burn off the alcohol.
When your syrup is ready, turn the heat down to low and add your star anise and the rest of the wine. Gently heat the wine and after around 5 minutes, when it's warm and delicious, ladle it into glasses and serve.
Hints and Tips
Note: if you have a cold, this will clear it right up!