Mint and Broad Bean Dip
Broadbean and Mint dip is a delicious protein-rich dip that can be made with goat's cheese or avocado.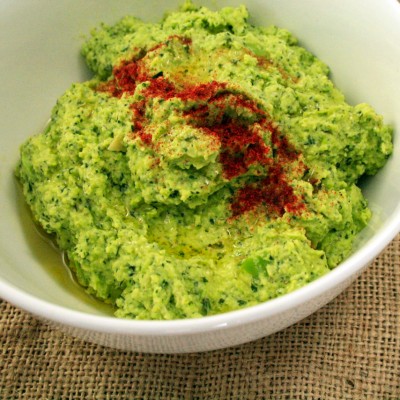 Ingredients
1kg unpeeled (450g peeled) broadbeans
100g Meredith Chevre (Plain) or ripe avocado (vegan option)
1 garlic clove, crushed
1 tbsp fresh lemon juice
80ml olive oil
2 Tbsp fresh mint, chopped
Extra Virgin Olive Oil to drizzle
Salt and pepper to taste
Method
This Mint and Broad Bean Dip recipe  is rich in protein and can be made with goat's cheese (vegetarian) or avocado (vegan).
Take the beans out of their pods. Place broadbeans in a heatproof bowl and cover with boiling water for five or so minutes. In batches (one handful at a time), scoop broadbeans out and peel their skins off. Discard the skins.
Cook the naked broad beans in a pot of boiling water for 2-3 minutes until just tender. Drain and cool under running water momentarily.
In a food processor or with a handheld blender, process the broadbeans, lemon juice, garlic, and goat's cheese or avocado (vegan option). Then with the processor still going, add the olive oil in a steady stream until the dip is smooth, then add the mint and blend well.
Season with salt and pepper to taste, and then transfer to a serving bowl and decorate with a drizzle of extra virgin olive oil and/or paprika.
Serve your mint and broad bean dip with blanched vegetables for dipping or nice flat bread, toasted and cut into triangles.
Hints and Tips
For a vegan and/or lactose-free version, swap cheese out, and bring the mushy avocado in!