Banana Bread
Make Those Bodies Sing! Or at least make banana bread.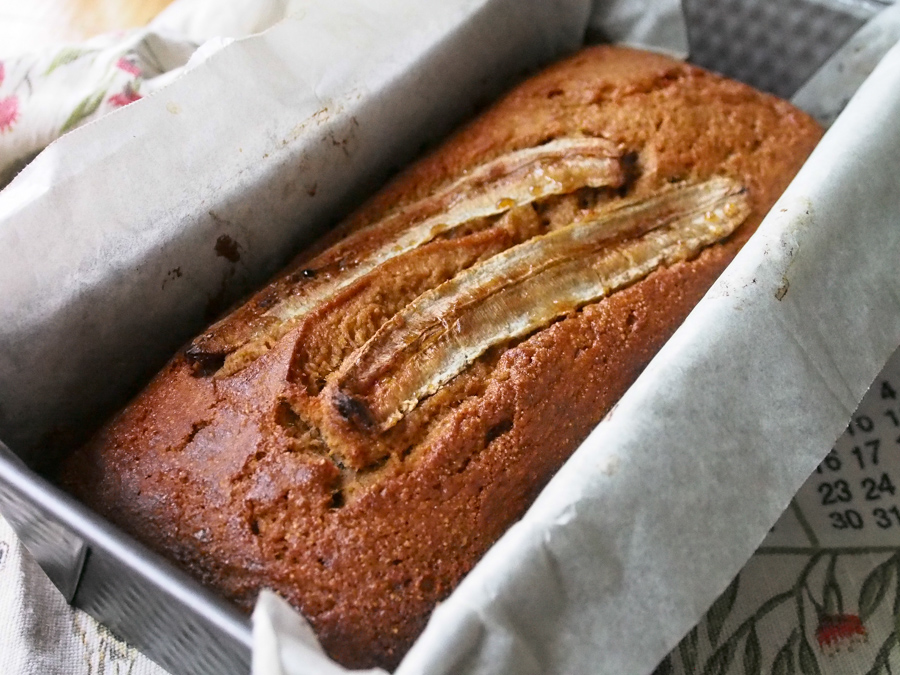 Ingredients
1½ cups flour (buckwheat for gf option)

1 C brown sugar

1 tsp baking powder

½ tsp bicarbonate soda (baking soda)

2 tsp ground cinnamon

2-3 very ripe bananas, mashed

1 egg

1/4 C olive oil

1 tsp vanilla essence

½ cup plain yoghurt

maple syrup or honey to drizzle on top

1 extra banana for a fancy top (optional)
Method
I grew up with an 80's TV ad, an idillic green-and-gold clip with a catchy and nauseating banana song. You might not know the one I mean, but for a Victorian childhood, everything in this ad was so sunny, so Queensland, so BANANA. Did kids really dance around in banana skirts up there? Singing BANANANANANA? It was a pretty influential marketing campaign – perhaps it's the reason we just can't avoid selling them ourselves, even though we try and keep all our other produce to growers from our state. There's something about all those happy Queensland children running wild on green lawns, singing their subliminal messages with healthy energy-boosting snacks in hand. OK, here's a link 😉
Anyway, banana bread has a different look and feel, well suited to us southerners perhaps … what with all the hot ovens and the extra work. If you have a few black ones in the fruit bowl, looking decidedly Melbourne, they might do well in this loaf.
This serves 6-8, and needs a small loaf tin. It's adapted from this gluten free Donna Hay recipe that a friend has been making recently. I've used olive oil and a tsp of vanilla essence, and dropped out some extra sweetness. The yoghurt makes this nice and moist, but banana bread is very forgiving so if you want to omit the yoghurt, just try adding an extra banana, or an egg or up the olive oil a little bit. Can you go wrong with banana bread? Another great looking recipe here uses honey, spelt and desiccated coconut. You might like to check that out too. Enjoy!
Preheat oven to 160°C.
Place the flour, sugar, baking powder, bicarb soda and cinnamon in a large bowl and mix to combine. Mix in the mashed banana, egg, yoghurt, olive oil and vanilla essence.
Pour into a lightly greased, small loaf tin lined with non-stick baking paper. Top with the extra banana, if you like. I also used a sprinkle of rolled oats which makes it look nice and healthier than it really is. Note: If you've ever really looked at a banana, you'll know they are made in 3 sections. An easy way to divide them is to press your finger or thumb on the end, and the three sections should easily split. This is a great move when dehydrating them, too. No more slicing bananas with a knife.
Bake for about an hour, or until a skewer comes out clean. Drizzle with extra maple syrup or honey if you like.