Ingredients
Baked Spuds:
Potatoes – russet, dutch cream, sweet potatoes, scrubbed clean
Extra-virgin olive oil
Salt and pep

Spicy Beans:
1 large bunch greens – kale, spigariello, brassica leaves, silverbeet, thick stems separated from the leaves
¼ cup olive oil, plus more for drizzling
4 garlic cloves, thinly sliced
1 medium red or yellow onion, thinly sliced
salt and pep
2 tbsp harissa
1 tbsp tomato paste
3 (400g) cans of beans – butter or cannellini are best, drained and rinsed
4 cups vegetable or chicken stock
1 lemon, juiced
A handful of parsley or coriander, leaves and tender stems
Summary
Phwoar, how good's a baked spud. We love em. While you wait for your spuds to cook, you can whip up this very flavourful bean stew. It's creamy, spicy and ultra adaptable! When the two come together, it's like a hot water bottle for your tummy. Cut open the spuds, add butter, salt, and pepper and watch as it melts together before taking a quintessential winter mouthful.
Baked Spuds with Spicy Beans
Baked Spuds:
Preheat oven to 200°C
Start by pronging the potatoes all over with a fork (saves them from exploding). Place potatoes in a large bowl with a few good glugs of oil, a big pinch of salt and pepper. Mix to coat the potatoes evenly.
Place directly on the wire rack in the oven with a baking tray on the shelf below to catch the drips.
Cooking time depends on the size of the potato, but they generally take 1-1.5 hours. You want the outside to be super golden and crispy and the inside to be all fluffy and creamy delicious – cut one open to have a look, you can always return it if it needs longer.

Spicy Beans: 
Tear your green leaves into bite-size pieces and set aside. Chop the stems into about .5cm pieces; set aside.
Heat 1/4 cup olive oil in a large pot over medium heat. Add garlic and onion, and season with salt and pepper. Cook, stirring occasionally, until lightly browned and sizzled at the edges, 4 to 6 minutes.
Add harissa and tomato paste, and stir to coat in the oil. Cook until the harissa is a nice brick red colour, the sugars start to caramelise, and the oil turns a nice vibrant fiery orange colour, about 2 minutes.
Add beans, and season with salt and pepper. Using a wooden spoon, crush a few beans to release their creamy interior. Add the stock and reserved stems, and season with salt and pepper. Bring to a simmer and cook until you've reached your desired consistency (less time for a brothier soup, more time for a thicker stew), 20-40 mins.
Add greens leaves and lemon juice, and stir to wilt the greens. Season with salt, pepper and more red-pepper flakes if you want it spicier.
Pile your bowl with beans, pop a spud on top – dig in!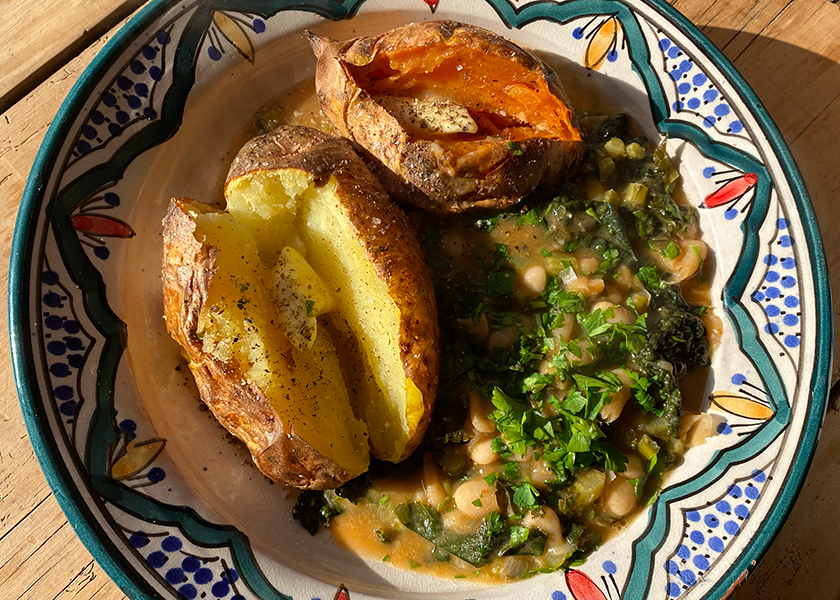 Hints and Tips
This recipe has been adapted from NYT cooking