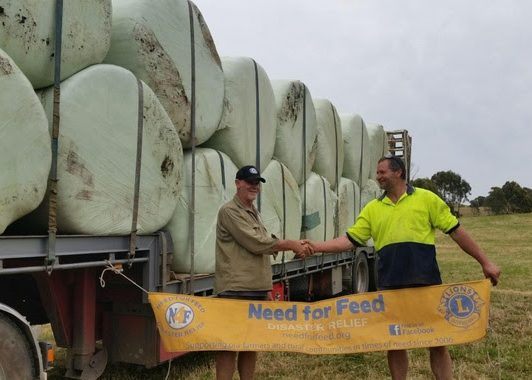 On New Year's Eve Isabelle Fouard, Fair Food's marketing manager, and her family were evacuated from their campsite on the NSW South Coast near Eden.
When the threat of falling embers made it unsafe to stay in their tents a local family took them in.
They spent the next two smoke-filled days lining up for food and fuel and slowly making their way back to Melbourne via a night in Albury-Wodonga.
And while her holidays were interrupted and her family frightened, Isabelle is quick to point out her experience was nothing compared to the families who have lost their houses, businesses and of course their farms.
The sheer scale of these fires meant fire-fighters have been forced to defend houses and towns while many farms have burned.
About 10 per cent of Australia's apples are grown around the evacuated towns of Batlow and Tumbarumba, it's also home to many cherry and other stonefruit orchards.
The Bega Valley is one of the country's major dairy producing areas.
East Gippsland, the Alpine region, the Central and Northern Tablelands are home to millions of sheep and cattle.
So many stock have died in the fires Agriculture Victoria is calling on the Army to help bury the tens of thousands of bodies.
After watching too many pictures of blackened fireys' faces confronting walls of flames and thinking about this unimaginable number of animals dying, it's hard to know what to do.
And as we come back from the break to Fair Food it seems we've all been wondering the same thing.
So this month instead of doing free delivery offers or our usual welcome back promotions we're going to give five dollars for every home delivery to the Organic Farmers Bushfire Appeal
So far the Appeal has raised $10,000 in cash donations.
Our aim is to raise another $10,000.
With the money the Appeal wants to help farmers;
provide livestock transport to organic farmland until fire danger passes
replace farming equipment
buy certified organic fodder
fund new seasons plantings and replace burnt fruit tree
Appeal organiser, Carolyn Suggate, explains this is an opportunity for farmers who want to do something to come together and care for each other.
So far the Appeal has received donations of 120 tonnes of certified organic fodder from Victorian organic producers (the pic above is the first load being delivered to Benmar Farm & Marrook Farm's on Christmas Eve).
Carolyn points out that the Appeal is also about us all supporting organic farmers to keep caring for the land and providing our food.
She also says that if we want to we can absolutely make extra donations direct to the appeal.
Welcome back
Chris