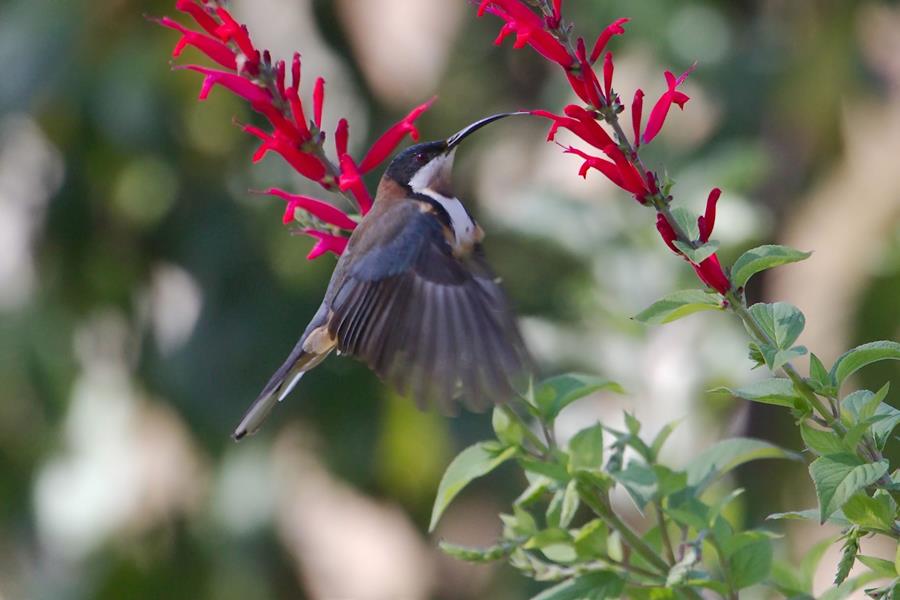 Birds, trees, beetroot and olives
Yesterday as I wandered around our frosty garden there was some serious commotion over in the flowering heath banksia.
Our resident red wattlebird was barking at three tiny eastern spinebills to get out of her winter larder.
The spinebills dove into some pineapple sage bushes licking nectar from the long scarlett flowers in mid-flight as if to say, "like to see you do this?"
Down the driveway a drooping sheoak sheathed in rows and rows of elongated tan flowers shimmers in the breeze – I'm sure Cate Blanchett once wore a dress like this to the Oscars.
When I walk around the back all wattle trees along the windbreak are covered in a mass of tiny yellow pinpricks – it's a galaxy of gold blossom about to explode.
I breathe out steam – a lot happens in winter.
Things are busying up around CERES too…
….over at the Fair Wood warehouse, manager, Hayden Cronin, is frantically keeping up with timber and firewood orders – truckloads of decking, cladding and sleepers arrive only to disappear off to houses and gardens in the following days.
Matthew, Fair Wood's delivery driver, has already been up to Wood4Good's Bendigo plantation three times to pick up extra loads of sugar gum firewood.
After yesterday's frost he'll be going again before the week is out.
CERES Fair Wood's been shortlisted for The Circle Awards celebrating a zero waste circular economy.
I didn't really think about Fair Wood as a circular economy enterprise but I go through what we do;
– salvaging timber from urban trees,
– milling old macrocarpa windbreaks into garden sleepers,
– recycling wharves into turpentine decking,
– cutting firewood from unwanted plantation thinnings
– sourcing kindling from native seed collection waste
Yeah, I guess that's pretty circular.
You can vote for Fair Wood here. Polls close 9pm Friday 28th May.
Speaking of zero-waste, our food relief friends at Open Table are back next Sunday at 11am for the latest #wastefreecooking workshop installment.
Grab your apron and your appetite and meet the wonderful Alanna Brown online ready to make a waste-free beetroot curry.
You gotta be quick for this – people love Alanna's sessions and they always book out.
Everyone welcome, find your free spot here.
Also next Sunday at CERES Brunswick East is the 3000 acres Olives to Oil Harvest Festival .
Bring your fresh olives to CERES for the big celebration and pressing (if you can't make Sunday drop your olives at the CERES Visitor Centre between 2pm and 4pm on Saturday 29th).
There's all sorts of olive inspired music, stories, talks and of course oil making.
Remember pick your olives on the day or the day before pressing – the fresher the olives the better the oil.
See you and your olives there – more details here.
Finally, down at Joe's Garden the zucchinis and zinnias may be finishing but don't think for a minute the farmers are going fallow.
On Saturday, June 5th get dressed up in your favourite birdy outfit (guidance in the pic below) and join with fellow farmgate lovers at Joe's Feathery Fundraiser
From 9am there will be;
– Silent Disco with Disco Duk Duk
– Polytunnel disco (not sure if that's silent or noisy)
– Story telling from creek side dwellers
– Fires to toast your boots on
– Gamalan
– Guess the number of broad beans in the jar
– BBQ and bar opening from 1pm
Whatever your bird is have a great week
Chris