Zucchini, Polenta and Parmesan Muffins
These muffins have a lovely golden cornmeal crunch to them – with the Zucchini adding flecks of colour as well as moisture. They are the perfect accompaniment to a bowl of vegetable soup – whether it be tomato, pumpkin or a hearty minestrone, or simply enjoy them straight from the oven smeared with a good quality, creamy butter.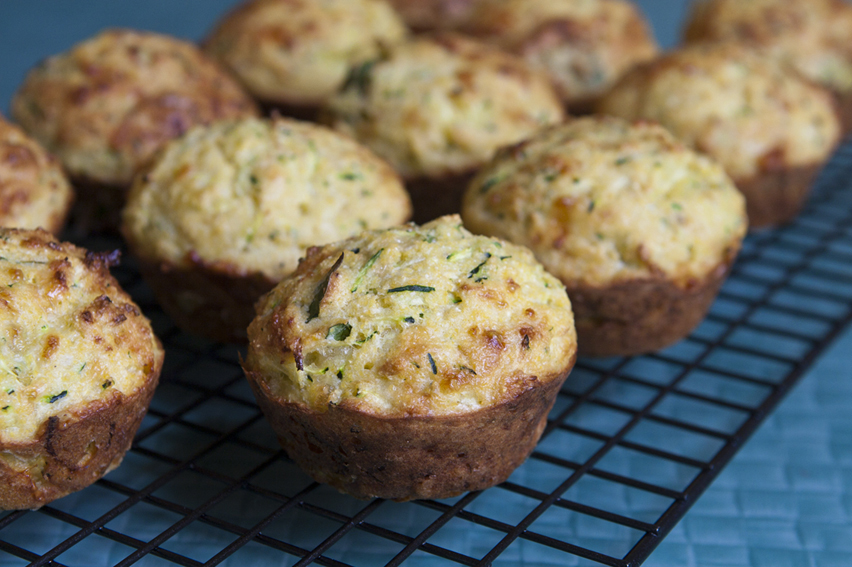 Serves 4-6
Ingredients
1 cup plain flour
1 cup instant polenta
2 tsp baking powder
1 tsp mustard powder
a good pinch each of sea salt and freshly ground black pepper
2 medium zucchinis, grated
a small handful freshly picked basil leaves, torn
3/4 cup Parmesan cheese, grated
1 cup milk
2 freerange eggs
Method
Preheat oven to 190°C.
Sift flour, polenta, baking powder and mustard powder into a large mixing bowl. Add sea salt and black pepper and mix to combine. Add zucchini, basil and Parmesan. Mix to coat well in flour.
In a small separate bowl or jug combine eggs and milk. Add to dry mix and fold together until just combined – avoid over mixing.
Spoon mixture evenly into a greased 12-hole muffin tray and bake for 15-20 minutes until golden and cooked through.
Hints and Tips
Makes 12 large muffins.