Maggie Beer's Warm Chickpea, Fennel and Parsley Salad
Warm Chickpea, Fennel and Parsley Salad, from Maggie Beer. Autumny and Easy.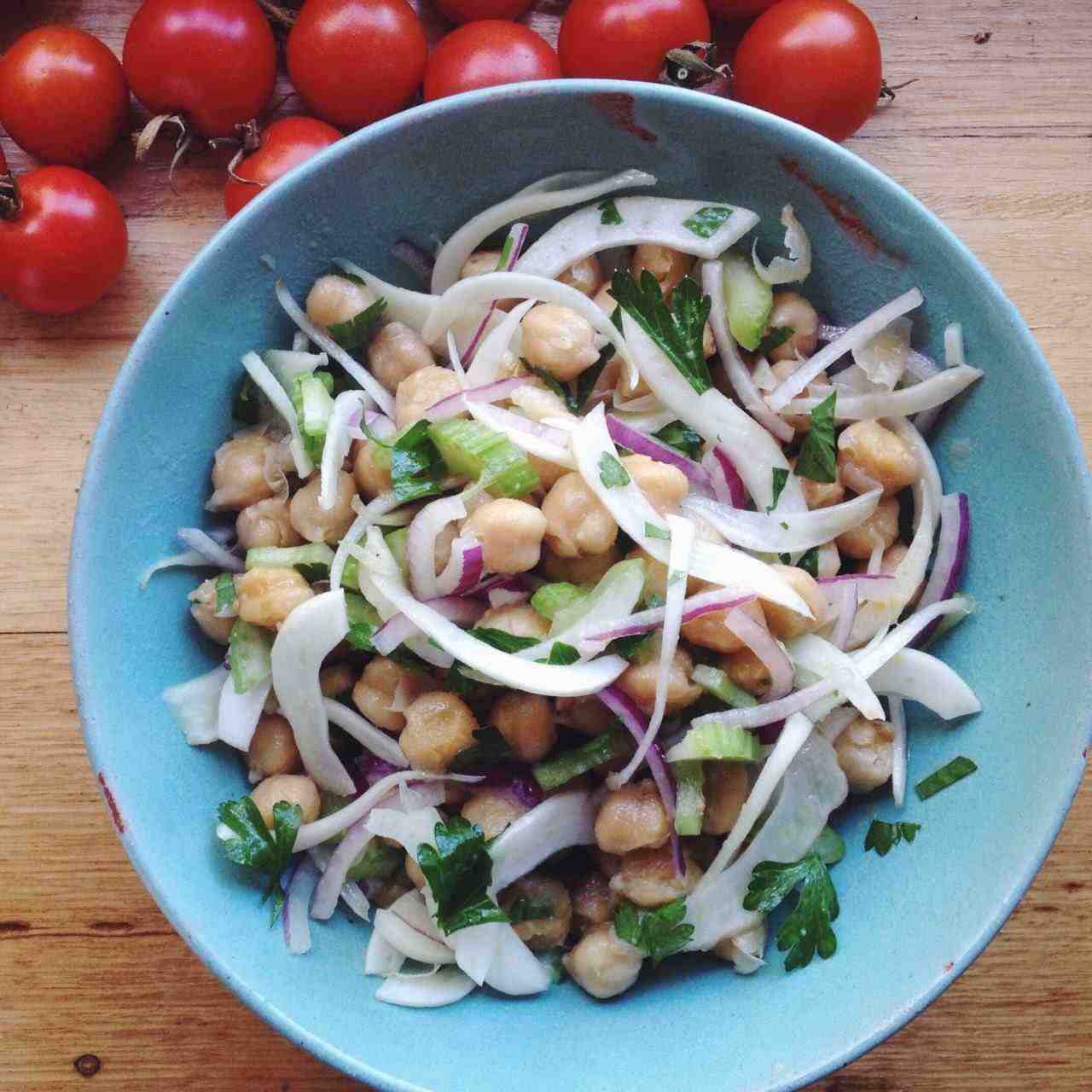 Serves 8
Ingredients
375g dried chick peas

1 large brown onion, quartered

12 sprigs of thyme, tied

1 tsp salt

1 small red onion

2 small sticks celery

1 fennel bulb

1 handful flat-leaf parsley
Garlic Vinaigrette:

2 cloves garlic

1 tsp salt

2 tbsp red wine vinegar

160ml extra virgin olive oil
Method
(please excuse the lack of apostrophe in the title, the capitals have taken over the programming)
I love fennel. I love chickpeas too. And parsley (it's my desert island herb of choice for sure).  I really love a hearty salad. And I absolutely love Winter. And Maggie Beer. Which brings me to here – and how I couldn't resist sharing this little recipe from an old copy of Maggie's Table. Keep your eye out in the webstore for Joe Sgro's gorgeous fresh fennel, which will be in some set boxes but you can also grab as an extra with any order. In the intro to this dish, Maggie Beer says it's "fresh, tasty, filling and healthy", which is obviously true. I can also vouch for it being a very easy salad with lots of my favourite things.
CHICKPEAS If you've soaked chickpeas overnight, drain them and cook in fresh water with the brown onion and thyme. Simmer for about 1.5hours and add salt just before they are fully cooked. They should be yummy and soft but still holding their shape. Alternatively you could use a pressure cooker, or rinse some tinned chickpeas and quickly saute with a little thyme to gently warm and flavour them.
Thinly slice the fennel, red onion, and celery. Pluck the parsley leaves (I finely chop the stalks too but not everyone is so pro-parsley) and toss everything through the warm chickpeas.
VINAIGRETTE Mince the garlic and then mush with salt by dragging the back of a large knife over it a few times. (This is a good tip, I use this a lot now when making salad dressings or guacamole to avoid big chunks of raw garlic). Then shake the vinegar (I used apple cider vinegar), olive oil and garlic in a jar, and dress the salad while the chick peas are still warm. Office lunch, done.