Vegan Stir Fried Noodles
This South East Asian inspired stir fry can be made using any type of noodles you have on hand, even cooked rice will work well as a substitute.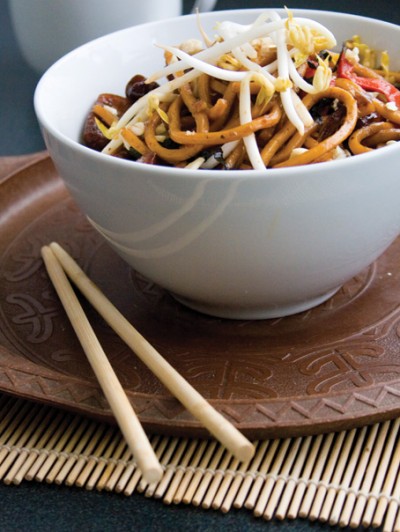 Ingredients
5 Tbsp vegetable oil
250g firm tofu, cubed
2 tsp salt
3 Tbsp kecap manis
1 onion, diced
3 garlic cloves, minced
2 1/2 cm piece of ginger, minced
5 button mushrooms, sliced
1 capsicum, cut into strips
1 courgette, sliced
1 bunch pak choy, roughly chopped
½ tsp chilli flakes
1/2 Tbsp sweet chilli sauce
450g fresh hokkien noodles
1⁄3 cup cashews
½ cup whole fresh basil leaves
1/2 Tbsp sesame seeds
handful of mung bean sprouts, to serve
Method
In a small pan, heat 2 1/2 tablespoons of oil over a medium heat. Add cubed tofu and sprinkle with salt. Fry tofu on each side for 3-5 minutes or until golden. Shake pan occasionally to prevent sticking. Add 2 tablespoons of kecap manis and simmer for another 5-10 minutes until kecap manis caramelises. Set aside and keep warm.
In a large wok, heat remaining 2 1/2 tablespoons of oil over a medium heat. Cook onion, garlic and ginger until onion is translucent. Increase heat and add mushrooms, capsicum and courgette. Stir fry for 3-5 minutes or until vegetables soften. Add pak choy, chilli flakes, sweet chilli sauce and remaining tablespoon of kecap manis. Stir fry for a few minutes until ingredients are combined.
Add hokkien noodles and fry for another 5 minutes (or until noodles are cooked according to packet instructions). Remove from heat and add tofu, cashews, basil and sesame seeds. Serve topped with mung bean sprouts. Enjoy your vegan stir fried noodles!
Hints and Tips
Kecap manis is a thick dark brown Indonesian soy sauce that has a sweeter flavour than normal soy sauce. It can be found in the Asian section of supermarkets.