Stuffed Flat Mushrooms on Polenta
I was excited to find a bag of flat mushrooms in this week's Fair Food box as it gave me an opportunity to recreate this signature recipe from Georgia Cato's father: barbecued flat mushrooms stuffed with a blend of fresh red chilli, garlic, italian parsley, olive oil and best of all, it reintegrates the stalks back into the filling. These hearty bites are quick and cheap to prepare and make a great accompaniment to any spring barbeque. If the weather turns nippy, just add a touch of extra chilli to spice you up.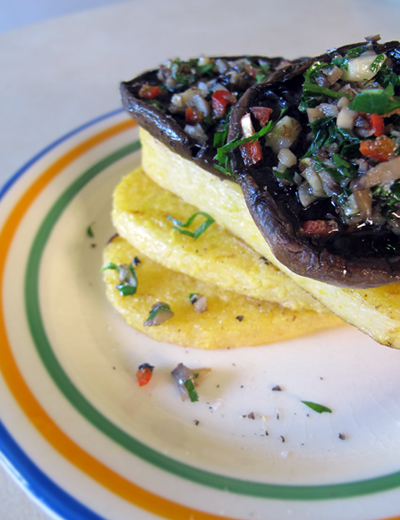 Serves 2 - 3
Ingredients
500gm of instant ready-to-serve polenta
1 red chilli, finely chopped
6 flat mushrooms
2-3 cloves of garlic, finely chopped
large handful of Italian parsley, chopped
olive oil
salt and pepper, to taste
Method
Slice polenta into 6 x 1/2 inch thick slices and lightly brush with olive oil. Heat a non-stick pan over a medium heat and fry polenta slices for approx 5 minutes on each side until golden brown. While polenta is cooking, prepare other ingredients and keep cooked polenta warm.
Remove stalks from mushrooms and finely dice stalks. Set aside.
Heat a generous glug of olive oil in a pan large enough to host mushrooms. Fry chopped stalks, garlic and chilli over a low-medium heat for a few minutes or until stalks are cooked. Set aside in a small bowl and mix through chopped parsley, salt and pepper.
Fry gill side of mushrooms for 4-5 minutes until golden and soft.  Flip and cook other side until mushrooms are cooked through.
Gently spoon stuffing on gill side of mushroom to keep mixture warm.
Layer cooked polenta on two plates and stack 3 stuffed mushrooms on top. Season with salt and pepper and an extra drizzle of olive oil if desired.
Hints and Tips
Here I've served these on a bed of fried ready-to-serve polenta as I was short on time, however it's easy to make your own! I like mixing grated zucchini or a few tablespoons of homemade pesto into the batter before cooling. These mushrooms also work well with freshly steamed green garlicky beans. If you have a barbecue you can prepare the filling and pre-stuff the mushrooms. Wrap each mushroom in foil and cook on a barbecue for 8-10 minutes.