Spinach and Pumpkin Curry
Cut pumpkin into 3cm pieces. Heat ghee in large pan and cook onion, stirring until browned. Add garlic, ginger, chilli and spices. Stir over heat until fragrant. Add pumpkin and …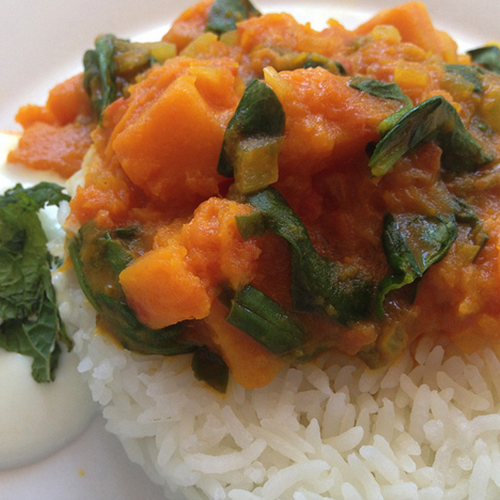 Serves 4
Ingredients
1kg pumpkin, peeled
1 tbsp ghee
2 medium brown onions, sliced thinly
2 cloves garlic, crushed
1 tsp grated fresh ginger
2 green chillies, seeded and sliced
1 tsp ground coriander
1 tsp ground cumin
1 tspn black mustard seeds
½ tspn ground turmeric
1 ½ cups (375ml) chicken stock (or vegetarian stock)
150g spinach, chopped coarsely
1/3 cup loosely packed fresh coriander leaves
1 tbsp flaked almonds, toasted
Method
Cut pumpkin into 3cm pieces.
Heat ghee in large pan and cook onion, stirring until browned. Add garlic, ginger, chilli and spices. Stir over heat until fragrant.
Add pumpkin and stock, simmer covered about 15 minutes or until pumpkin is tender.
Add spinach and coriander, toss until spinach has just wilted.
I take the lid off the last 5 minutes so it thickens to my taste.
Serve with steam basmati rice and any Indian bread.
You can order organic pumpkin and spinach leaves when in season, along with many other groceries from our webstore.