Red Cabbage and Quinoa Salad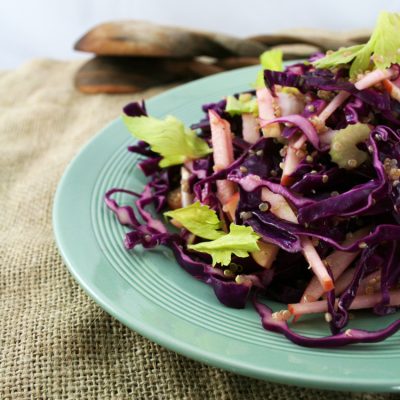 Method
A great end-of-winter Red Cabbage and Quinoa Salad, both tangy and a little sweet with apple cider vinegar, apple juice and Dijon mustard.
Put a cup of washed quinoa to boil in a small pot with a lid. Make sure the quinoa is well-submerged in water (half a centimetre over).
Once boiling, reduce heat to simmer and cook for about 20 mins, until water has evaporated and the quinoa grains have softened. You may need to add water as you go.

Wash and thinly slice the celery stalks. Keeping the small leafy stalks aside to be sliced lengthways.

Julienne your apple, shred the cabbage, and slice the shallots.
Whisk the Apple cider dressing ingredients together.
In a large salad bowl combine the veggies, quinoa and dressing together.
Serve and enjoy!
Red Cabbage and Quinoa Salad is great with grilled haloumi burgers.
Serves: (6)
Ingredients
1/2 red cabbage, core removed, finely shredded
2 shallots, thinly sliced
1 celery heart, thinly sliced
1 pink lady apple, julienned
1 cup quinoa, cooked
Apple cider dressing
1/3 cup apple cider vinegar
¼ cup apple juice
2 Tbsp olive oil
2 Tbsp lemon juice
1 tsp Dijon mustard
Salt and pepper to taste