Mint and Pea Soup
This mint and pea soup recipe combines fresh seasonal spring flavours. Made with fresh local organic ingredients from CERES Fair Food delivery service.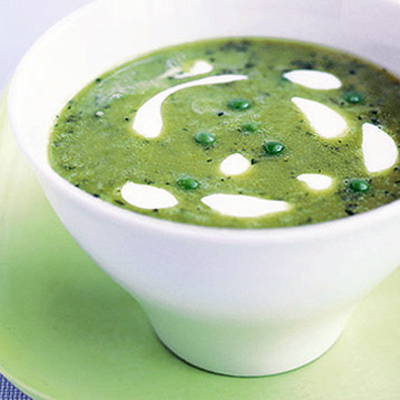 Serves 6-8
Ingredients
3 leeks
2 cloves garlic
4 bay leaves
1 handful fresh thyme
1.5L stock (vegetable or chicken)
1kg peas (frozen are okay)
Big bunch of fresh parsley, mint and spinach
Garnish with freshly cooked peas, fresh mint/thyme and/or cream
Method
Sauté 3 leeks with 2 cloves garlic until soft. Add 4 bay leaves and a handful of fresh thyme. Cover with 1.5 litres of stock, and simmer for half an hour.
Add 1kg peas (frozen works), a big bunch of fresh parsley, mint and spinach, and cook only for 5 mins. Let cool for a while.
Blitz soup in a food processor and then pass through sieve. (Keep the pulp for other recipes)
Add salt and pepper to taste.
Serve mint and pea soup with some freshly cooked peas floating, fresh mint/thyme and fresh cream (optional).