Herb & White Wine Rainbow Trout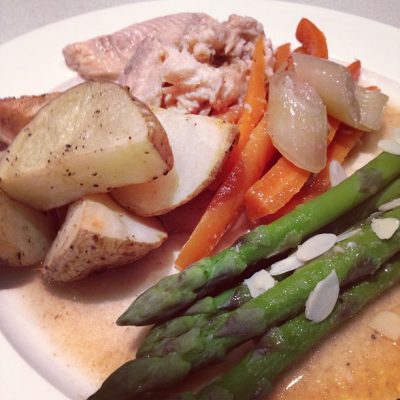 Method
 Preheat oven to 190˚C. Line a small baking dish with foil, place fish on top & stuff with whole parsley bunch. Place carrots & onion/leek into the tray.
Snap woody ends off asparagus. Thoroughly wash & cut potatoes into small quarters. Place cut potatoes on a large non-stick baking surface; coat with oil, salt & pepper. Cook on top rack for 20-25 mins before adding fish.
Mix white wine, 1 tbsp olive oil, garlic & ginger, salt & pepper in a small bowl. Soak fish, carrots & onion in sauce. Seal the baking dish with a layer of foil. Turn your oven down to 180˚C and place fish under the potatoes in the oven. Turn your potatoes & bake both trays for a further 20-25 mins.
With 10 mins of cooking left to go, add your asparagus in a bunch next to your potatoes, lightly coated with oil and a sprinkle of almond flakes.
Serve with baked wine sauce poured over the top of your fish & asparagus.
You can order organic asparagus and potatoes when in season, along with many other groceries from our webstore.
Ingredients
1 whole rainbow ocean trout
1 bunch parsley, whole
1 large onion or leek, sliced
3 carrots, julienne
1 bunch of asparagus
4 small potatoes, quartered
Olive oil
1 ½ cups dry white wine
1 tsp crushed ginger
1 tsp crushed garlic
Salt and pepper to taste
Almond flakes (optional)
Recipe From:
Eleonore Bridier