Mini Asparagus and Leek Quiches
These Mini Asparagus and Leek Quiches are little cheesy seasonal delights, perfect for lunch boxes and afternoon teas.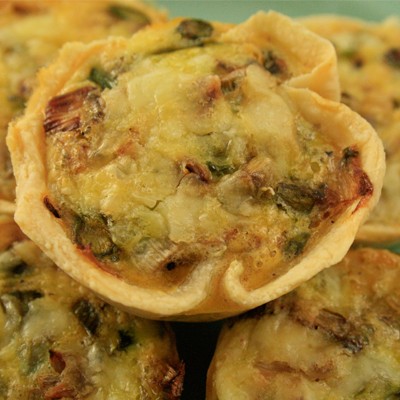 Serves 6
Ingredients
1-2 sheets (approx 200g) ready made shortcrust pie pastry
Or make your own (1 1/2 cups plain flour, 1/4 tsp salt, 125g diced chilled butter, 2-3 Tbsp iced water)
1 tablespoon butter
1 leek, halved and thinly sliced
1 bunch asparagus, tough ends removed, thinly sliced on a diagonal line.
5 free range eggs
Salt and ground pepper
1 tsp ground nutmeg
1 cup shredded organic cheddar cheese
Method
Preheat oven to 180 degrees Celsius, moving the oven rack to the lowest position.
In a large skillet, melt the butter over medium heat, then add the leek and asparagus, stirring occasionally until cooked through and nicely browned (about 6-8 minutes). Remove from heat and let the veggies cool.
In a large bowl, whisk together the eggs, 1/2 teaspoon salt and ground pepper, and a pinch of nutmeg.
If you're making your own pie crust, process all pastry ingredients in a food processor, then knead until smooth. Then cover and place in the fridge for 10 mins.
Roll cool dough out into a large sheet of pastry. Using a large round container (like a 1 cup measuring cup), cut mini quiche pastry crusts out and place in a muffin baking tray.
Sprinkle a small layer of grated cheddar cheese on the quiche crusts, then top with some asparagus mixture. Pour egg mixture on top.
Bake until the asparagus and leek quiches are just set, 50 to 60 minutes. Serve with a nice green or grated carrot salad.
Hints and Tips
For a gluten free version, use or make your own gluten free pastry. To make your own, you'll need 2 cups (300g) of gluten-free plain flour – 150g butter, chilled, cubed – Pinch of salt – 1 egg
Mix flour, butter and salt in a food processor until mixture forms crumbs. Process with an egg and 1-2 Tbsp cold water. Knead until smooth. Refrigerate covered for 10 minutes.