Carrot, Pumpkin and Red Lentil Soup
This carrot, pumpkin and lentil soup recipe is a hearty vegan soup from her Sandie Hernandez's new vegetarian cookbook Three Bowls.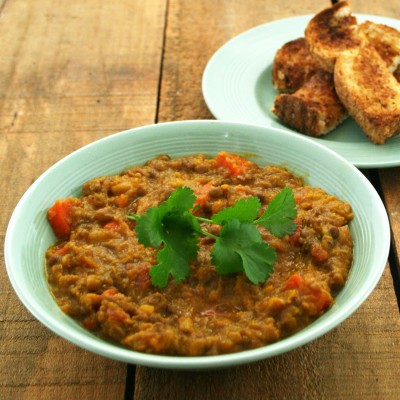 Serves 3-4
Ingredients
1/2 cup split red lentils, washed and rinsed 4 times then soaked for 30 mins in a small pot
1 brown onion, diced
2 carrots, diced
2 cups of pumpkin in large pieces
1 small potato, diced
3 ripe tomatoes, diced (or 1/2 tin of organic tomatoes)
1/4 tsp cumin seeds
1/2 tsp coriander seeds
Extra virgin coconut oil
Salt and pepper to taste
Juice of 1/2 lemon
A few coriander leaves
Method
Sandie Hernandez's Carrot, Pumpkin and Red Lentil Soup, a hearty vegan soup from her new vegetarian cookbook Three Bowls. You can order a copy of Three Bowls online from Bee Sustainable, or contact Sandie directly by email.
Place covered pot of lentils on the stove with a pinch of cumin seeds. Bring to the boil over medium heat and simmer until lentils are tender, about 20 minutes.

Drain and set aside.
Meanwhile, in a soup pot, heat the coconut oil over low heat.
Stir in the onions and sauté until the onions smell sweet and are tender.
Add the spices, a small pinch of salt and a few grindings of pepper.
Sauté for a few minutes until the fragrance of the spices is released.
Stir in tomatoes, simmer for a few minutes before adding the vegetables.
Gently combine everything in the pot so that the spices are evenly spread.
Cover to about 1 inch over the vegetables with room temperature filtered water, place the lid and bring to simmering over low heat.
Move the lid to the side to allow space for steam and continue to cook until vegetables are tender, about 30 minutes.
Remove lid and allow to sit for 10 minutes.
If eating immediately, stir in lemon juice and coriander leaves and serve it up. Otherwise allow to cool and refrigerate, adding lemon juice and coriander after heating. Enjoy your Carrot, Pumpkin and Red Lentil Soup!