Kedgeree with Sardines
Sardines and the comfort of kedgeree. Hello, weekend.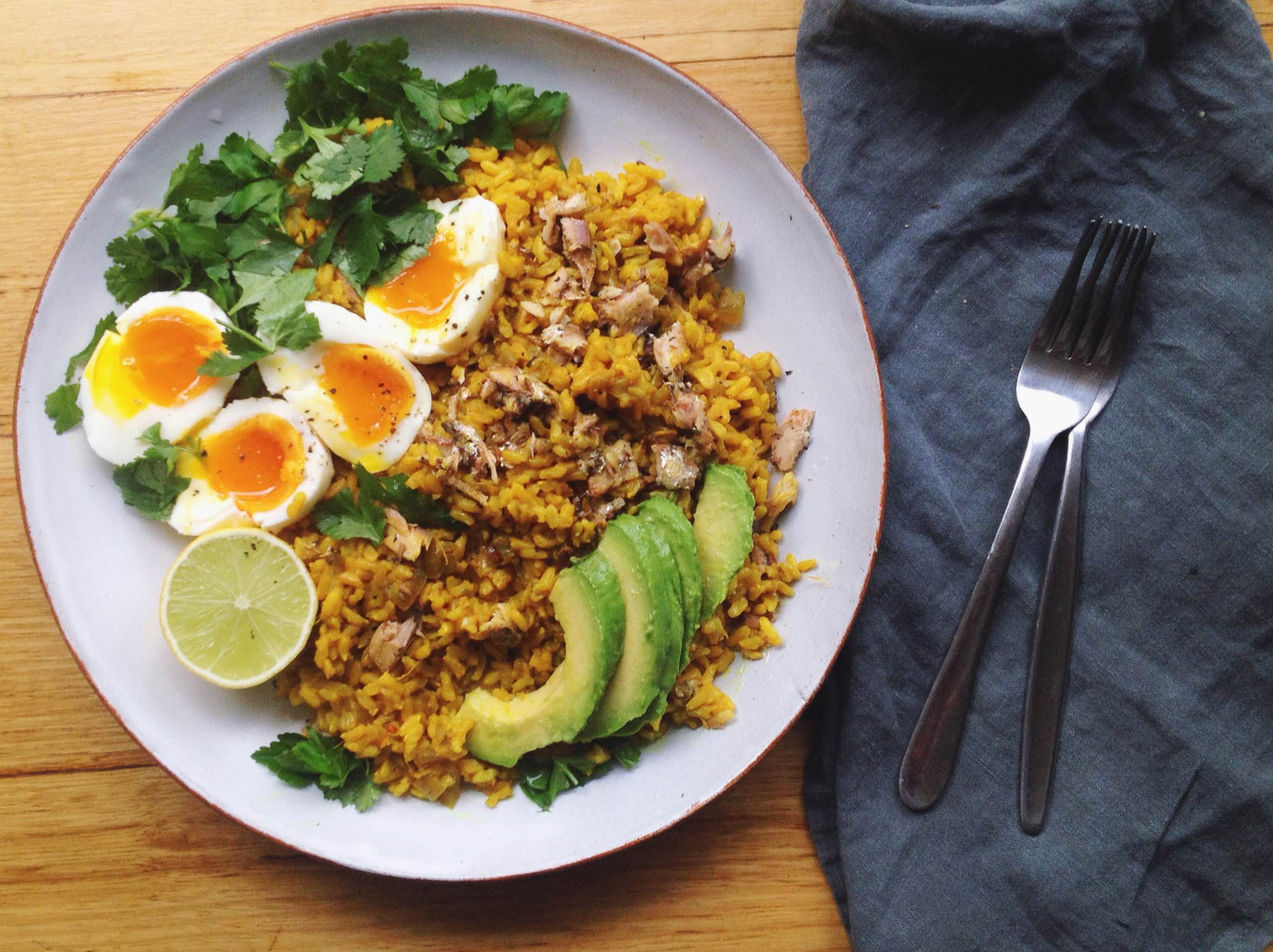 Serves 2 hungry
Ingredients
2 Tbsp ghee, coconut oil or butter

1 small onion, diced

1 thumb-sized knob of ginger, grated

1 garlic clove, finely diced

1 tsp tumeric, ground or freshly grated

1 tsp cumin, ground

1 tsp coriander, ground

1/2 tsp black pepper, ground

1 tsp garam masala or curry powder

1/2 chilli flakes, to taste

1 stem curry leaves (optional)

1 C brown basmati rice

500mL (2C) water

1 100g sardines in olive oil

4 eggs

handful coriander and parsley

1 lime or lemon
avocado, pickles and hot sauce to serve
Method
Brown rice kedgeree and sardines. Overlooking the British colonial overtones, it really is a winner. As much an idea of combining something nourishing as an actual specific dish, it's good for left overs too – rice (and veggies) can quickly be fried in spices, a few eggs boiled and what was old is new again. And of course the oily fish is optional, it's part of the British appropriation of the original Kitchari, the subcontinent's lightly spiced and restorative mix of rice/pulses. But for fish eaters, this is a tasty way to enjoy them in place of simply smooshing them on hot toast again. It's also great for lunch. Hello, weekend.
Heat the ghee / oil / butter in a medium pot with a tight fitting lid, and fry the onions, ginger and garlic for a few minutes. Add the spices and brown rice, and stir again to warm through with the oil. Add the water, a good pinch of salt, (and a stem of curry leaves if using) and pop the lid on to bring to the boil. Once boiling, reduce to a simmer without lifting the lid. Simmer for 30 minutes, remove from the heat and leave, still covered, to steam for another 10 or so minutes.
Soft boil the eggs while the rice is cooking.  I cover them with cold water in a small saucepan and start timing once the water is boiling – 3 minutes for soft boiled, 5-6 minutes if you don't like them runny. Drain and rest in fresh cold water, then peel.
Flake the sardines into the warm rice, and season well with lime or lemon juice and salt and pepper. Pile with a generous amount of herbs and the halved eggs. Go all out with avocado, your favourite pickles and extra hot sauce to serve.