Kasundi
You never regret making a few jars of kasundi. Or A LOT of kasundi.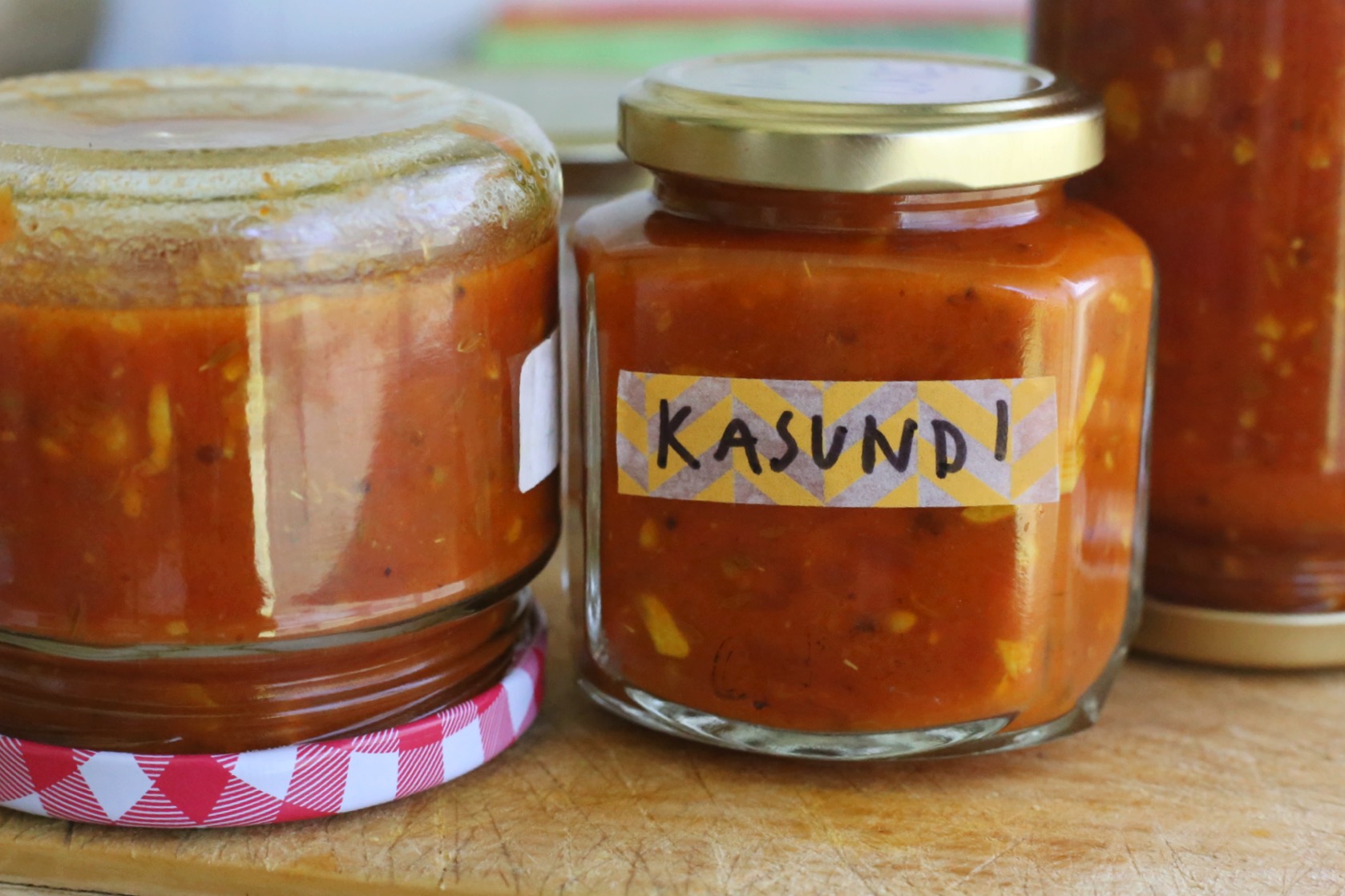 Ingredients
3 Tbsp sunflower oil
1 Tbsp mustard seeds
1 Tbsp ground cumin
1 Tbsp cayenne pepper
2 tsp ground turmeric
big thumb-sized knob of ginger, grated
5 cloves garlic, crushed
1 fresh chilli, seeded & finely diced
10-12 juicy large tomatoes - peeled and roughly chopped (or 2 x 400g tins)
3/4 C apple cider vinegar
1/4 C sugar
1 tsp salt
Method
Oh Kasundi, the fiery Indian condiment so very helpful for spicing up a lazy weekend omelette. Or giving that midweek curry a little punch on the side. Or jazzing up a plain old cheese toastie (don't skimp on the extra pickles). If you have a bowl of ripe tomatoes on your kitchen bench, or a garden cranking out a steady supply, then a few jars of kasundi aren't far away and we all know you never regret making a few jars of kasundi.
Adapted from a Delicious. recipe, personal experience and from comparing techniques with fellow kasundi loving friends. This should make about 3-4 small jars. Double or triple the amounts if tomatoes allow.
Firstly bring a pot of water to the boil to quickly peel your tomatoes. Using a sharp knife, score the top of the tomatoes (where the stem was) with a cross, and blanch them in the water for about 30 secs or a bit more before removing with a slotted spoon. The skins will begin to curl away. Run the tomatoes under cold water and all the skins will rub off easily with your fingers.
Heat oil in a large saucepan. Add seeds and powdered spices, and stir for 5 minutes until fragrant.
Add the fresh ginger, garlic and chilli and cook for another 5 minutes.
Add remaining ingredients and peeled tomatoes and simmer for 1 hour. When you notice the oil sitting on the top it's good to go. Spoon into prepared, sterilised jars and seal well. Kasundi jars will keep indefinitely if sealed properly. Once opened, use it up in a couple of weeks and keep it in the fridge. Again, scrambled eggs, cheese toasties or fried egg sambos will use it up in no time. A dollop with a midweek dahl is also a winner.