French Cherry Clafoutis
The easiest summer dessert to make, clafouti is also a healthier kind of treat that still entices and satisfies a sweet inclination.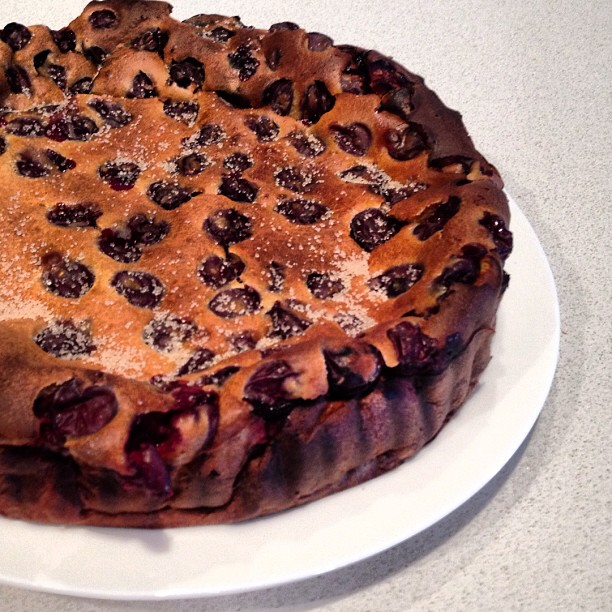 Serves 8
Ingredients
600g cherries, pitted or unpitted
10 heaped Tbsp plain flour
8 heaped Tbsp raw sugar
4 whole eggs
2 tsp vanilla essence
1 tsp almond essence
350ml milk
Method
Preheat your oven to 220 degrees Celsius.
If you are using fresh cherries, you may wish to remove the pips. But if you're not feeding the cake to children, it's quite traditional to leave them in. Also, your cherries don't have to be the cream of the crop. Clafoutis is a smooth custard-like cake that works perfectly with fairly acidic cherries, and likewise with very sweet and ripe ones. So don't be shy to throw them into the mix.
Add the flour and sugar to a mixing bowl and combine. Make a small depression in the middle of the mixture and add your eggs. Using a wooden spoon gently combine and mix, making sure you work out any lumps
Add the vanilla and almond essence and mix.
Add the milk slowly, bit by bit. Doing so will ensure you avoid getting clumps and lumps – making sure you get a smooth consistency. If you do get lumps, you may wish to use a handheld blender to work them out, but you will then need to let the mixture rest for an hour or so afterwards.
Grease a sealed ceramic tart baking dish, and tip your cherries into it. You'll need to use you hands to make sure they're evenly spread across the dish.
Gently pour the batter into the dish, being careful not to disturb your cherries. Some will float to the top and this is fine. Fill the dish but make sure there's at least a couple millimetres of free space at the top, as the cake will still expand slightly as it cooks. And you don't want to get spillage in your oven.
Bake in your oven at 220 degrees Celsius for 30 mins on the middle rack.
After half an hour, check the clafoutis to make sure it's not burning on top. Use a skewer in the middle to see if it requires more cooking. Clafoutis is a custard-like cake, and as such it should be gelatinous in texture but not uncooked. On the flipside, overcook it and it will become too rubbery.
If the cake requires more baking (and it most often does at this stage), turn the heat down to 180 degrees Celsius and bake for an additional 10-15 mins.
Once it has finished cooking, remove it immediately from the oven and leave to cool a little. Once it has cooled a bit, sprinkle a little raw sugar on top for decoration.
Clafoutis is a great dessert served both warm and cold. And being a cross between cake and custard, it will last in your fridge and even improve for several days. But we doubt it'll last that long. It's truly so simple and delicious.
Hints and Tips
You can also substitute cherries with plums.