Eggs and Silverbeet in Spicy Tomato Sauce
I was going to call this recipe baked eggs and silverbeet, however as the eggs aren't actually baked in the oven I thought it best to revise the title. Cooking on the stovetop not only shortens the cooking time, but it also leaves you with just the one pan to wash up. Along with being a relatively easy meal to whip up it's packed full of healthy goodness and is darn tasty to boot. Served with thick slices of crusty toast, I can't think of a better way to ease into a lazy Sunday.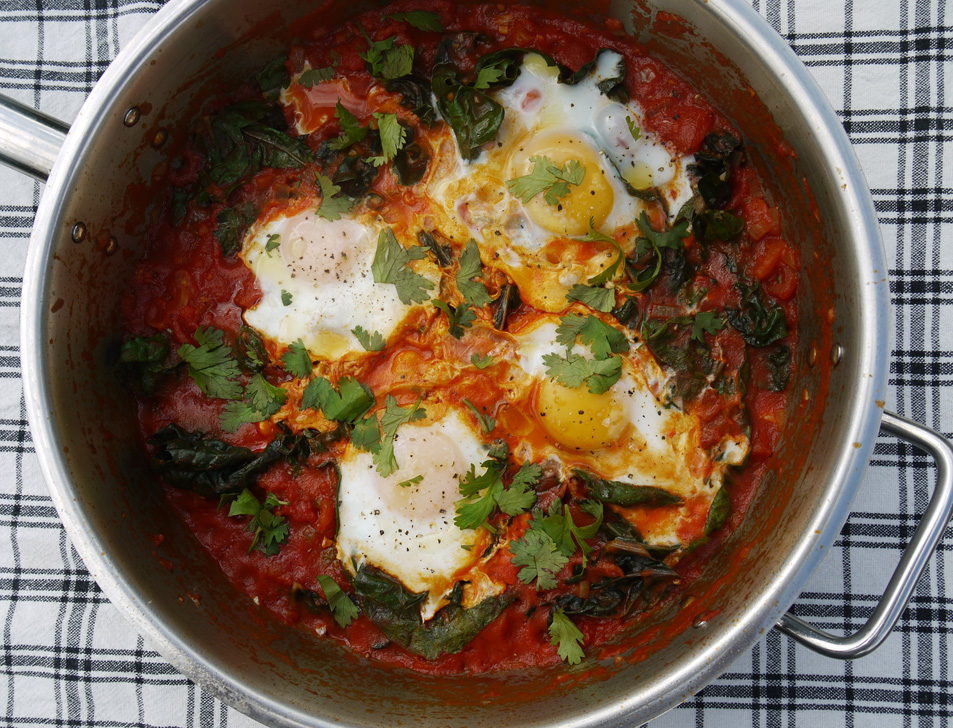 Serves 2-4
Ingredients
extra virgin olive oil 1 small brown onion, diced 2 cloves garlic, minced 2 medium jalapeno chilis, minced 1 teaspoon sweet paprika 2x 400g cans chopped tomatoes 4 large silverbeet leaves, stalks removed, sliced 6 free-range eggs chopped fresh coriander, to serve
Method
Heat a good glug of olive oil in a medium to large pan. Add onion, garlic and chilli and cook, stirring, for a few minutes or until fragrant.
Add paprika and stir. Add chopped tomatoes, bring to a boil, turn down heat and simmer for 5 minutes.
Add silverbeet and half a cup of water to pan and cover. Simmer for a further 3-5 minutes or until silverbeet has wilted. Season sauce with salt and pepper to taste.
Crack eggs into the pan, cover and cook for a further 5-6 minutes on a low-medium heat, until egg whites are cooked through and yolks are soft and runny.
Remove from heat, drizzle eggs with olive and season. Sprinkle with chopped coriander and serve.
Hints and Tips
You can easily change the amount of eggs added to the sauce to accommodate for more or less people.