cream of asparagus soup
This asparagus soup will work nicely an entree, or if you'd like to serve it as a main, pop a piece of toasted and buttered ciabatta into each bowl and top with a poached egg.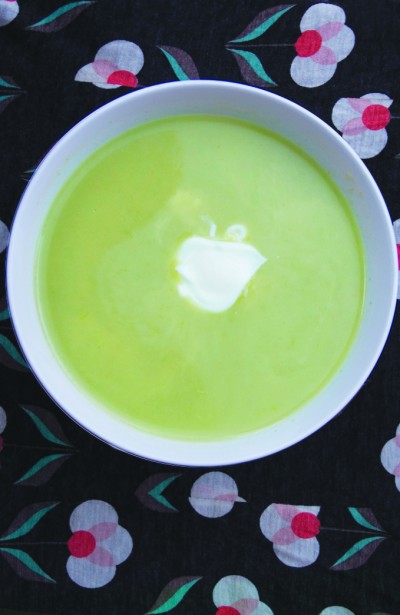 Serves 3
Ingredients
2 bunches asparagus
2 Tbsp olive oil
1/2 onion, diced
2 garlic cloves, minced
2 stalks celery, halved lengthways and sliced
1/2 tsp salt
3 cups vegetable stock
1/4 tsp pepper
1/4 tsp paprika
2 Tbsp flour, sifted
Method
Snap the woody ends off asparagus and discard. Cut stalks into quarters and set aside. Heat oil in a large pot over a medium heat, add onion and garlic and cook for a few minutes. Reduce heat, add celery and salt, stir, cover and cook for 5 minutes or until celery softens. Add vegetable stock, asparagus, pepper and paprika, bring to a boil, reduce heat, cover and simmer for 3-5 minutes, or until asparagus is tender and bright green. Remove from heat and give a rough blend.
In a small seperate bowl mix flour with two tablespoons of water until smooth. Slowly whisk into soup.
Serve with a swirl of yoghurt, or if serving as a main meal, with a poached egg on top of toasted ciabatta. Enjoy your cream of asparagus soup!