Braised Chinese Chicken and Chestnuts
Braised Chinese Chicken and Chestnuts makes for a perfectly balanced salty, sweet and tangy dish, as the day's shorten and the weather cools.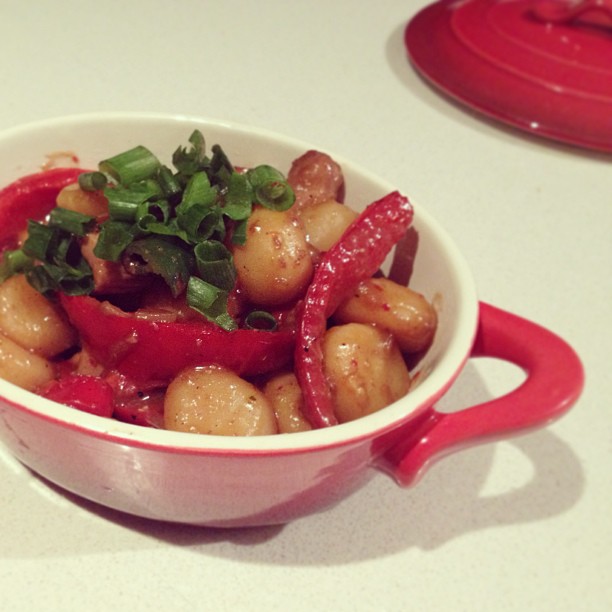 Serves 2
Ingredients
250g chicken thigh fillets
200g chestnuts (shelled)
3-4 shallots or 1 small red onion, diced
1 tsp ginger, crushed
2 tbsp cooking oil
1 spring onion, thinly sliced
1 red capsicum, sliced
—Marinade for Chicken—
1/4 tsp salt
1/4 tbsp cooking wine
Pinch of ground white pepper
1 tsp ginger, crushed
1/2 tsp cornflour
—–Sauce—–
1 cup chicken stock
1 tsp sugar
1 tsp garlic, crushed
1 tsp ginger, crushed
½ mild chilli, sliced
1 tbsp sweet dark soy sauce
½ tbsp soy sauce or tamari
Cornstarch paste (cornflour= 1:2 tsp)
Method
Cut chicken thigh fillets into cubes. Marinate them for at least 15 minutes in a mixture of marinade ingredients (see back).
To shell chestnuts; cook in boiling water for 1 min and then drain. Using a clean tea towel, take 5-6 chestnuts at a time and 'rub' the chestnuts to remove their shells & skin.
Heat oil in a pan until hot. On low flame, fry chicken until golden brown (approx 2 mins).
Add shallots, chilli, garlic, ginger, capsicum and chestnuts, stirring constantly until fragrant (approx. 1 min)
Mix sugar, soy sauces into chicken stock and pour into pot. The amount of water in the pot should cover both the chicken and chestnuts to keep them from drying out. Stir well.
Bring the sauce to a boil and cover. Then simmer over low heat for about 10 minutes, or until the chestnuts have softened. Take off the cover, turn to high heat and thicken with a well-mixed cornstarch paste.
Garnish with spring onion and serve with rice, or stir-through thick Asian-style noodles of your choosing.
Recipe adapted with thanks – Taste Hong Kong
Hints and Tips
Dissolve cornflour into water (room temperature) and mix with the back of a teaspoon until all lumps are dissolved.
You may also like to add a dash of lemon juice or rice wine vinegar at the end to balance the salty sweet with a bit more tang.