Bean and tomato salad with soft boiled eggs
The inspiration for this salad came from the lovely yellow string beans which arrived in this weeks Fair Food fruit and vegetable box. Paired with juicy red tomato wedges and a lovely summer fresh salad mix, this is a satisfying yet light meal on its own, or a great side dish for grilled white fish or tuna steaks. The eggs can be swapped for toasted slivered almonds and crumbled feta or shaved Parmesan if desired.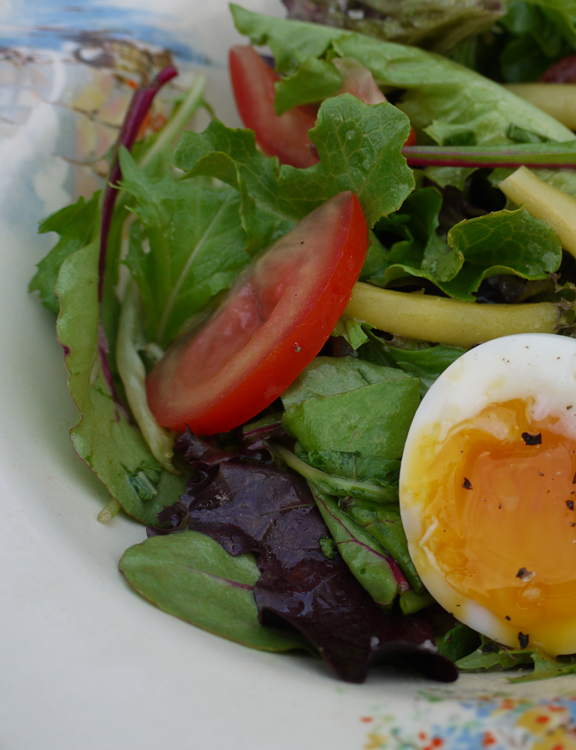 Serves 4
Ingredients
4 free range eggs
20-30 yellow or green string beans
3 tablespoons extra virgin olive oil
1 tablespoon lemon juice
1/2 teaspoon Dijon mustard
1 tablespoon sliced fresh basil leaves
1 small shallot, finely chopped
3 large handfuls of mixed salad greens
1 tomato, sliced into thin wedges
Method
Bring a small pan of water to the boil. Add eggs and cook for 5 minutes. Remove with a slotted spoon and place in a bowl of cold water. Top and tail beans and slice in half on an angle. Add to boiling water and blanch for 1-2 minutes until tender yet still crisp. Drain and place in a bowl of iced water. Set aside to cool.
To make dressing whisk together olive oil, lemon juice, Dijon mustard, basil and shallots. Season with sea salt and freshly ground black pepper and set aside.
Combine salad greens, tomato wedges and beans in a large bowl. Divide among serving plates and drizzle a tablespoon of dressing over each portion. Carefully peel eggs, slice in half and arrange 2 halves on top of each serving of salad. Drizzle a small amount of olive oil over each egg half and lightly season with sea salt and freshly ground black pepper.
Hints and Tips
If you wish to travel with this salad, or simply prefer a hard boiled yolk, boil the eggs for 9 minutes to ensure the yolk is cooked through.