Bean and Corn Enchiladas
It can be hard to go past a good ol' corn on the cob, but if you want to do something else with it, these bean and corn enchiladas are a good way to go.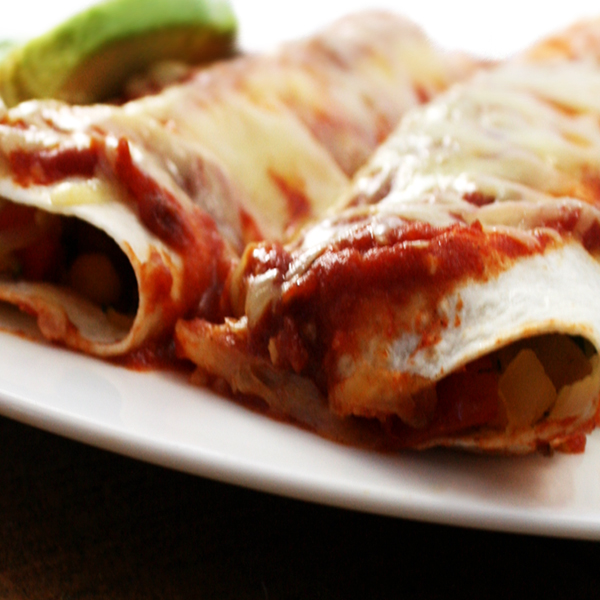 Serves 10
Ingredients
10 enchilada tortillas or gluten free wraps
Olive oil for frying
2 fresh ears of corn, kernels removed
1 small red onion, chopped
1 capsicum (red or green), diced
1 zucchini, grated
1 large tomato, diced
1 can (400g) red kidney or black beans
Cheddar or other cheese for grating
200g taco sauce (see method for ingredients)
Method
It can be hard to go past good ol' fashioned corn on the cob, with plenty of butter and salt, but if you do feel like trying something else with your corn, bean and corn enchiladas are a great way to go.
Preheat your oven to 180°C, wrap your enchilada tortillas (or gluten free wraps) in aluminium foil (so they don't dry out) and pop them in the oven to warm.
In a small saucepan, make the taco sauce by warming half a jar of tomato passata, and mixing in ¼ tsp chilli powder, 1 tsp cumin, 1 tbsp chopped onion, 1 tbsp white vinegar, ½ tsp garlic powder, ¼ tsp salt, ½ tsp paprika, ¼ tsp sugar and ½ tsp oregano. Your sauce can be taken off the heat once it has thickened a little.
While the taco sauce is quietly simmering, add a tbsp of olive oil to a large frying pan and lightly fry the corn kernels and then set aside.
Add another tablespoon of olive oil to the pan, and this time, add the onion, capsicum and zucchini. Fry until zucchini has reduced, and then add the tomato. Cook for an additional few minutes until soft, and then add fried corn kernels and beans of your choice (red kidney or black beans work well).
Add salt and a good deal of freshly cracked black pepper, stir and take off the heat.
Now you're ready to build your enchiladas. Remove the tortillas from the oven and take them out of the foil one by one, so you can fill them.
First place about ½ cup of the bean and corn filling in a line down the middle of the tortilla, then roll the tortilla closed and place seam side down in a lightly oiled baking tray, so the contents don't spill out.
Repeat with the other tortillas, then ladle the taco sauce over them, grate some cheese on top (omit this step if you're vegan) and bake for 15 minutes until the cheese melts and taco sauce sets on top.
Serve with slices of fresh avocado, or guacamole if you prefer.
Hints and Tips
To make this dish vegan, omit the cheese and make a vegan guacamole for a creamy but fresh accompaniment.
Use gluten free wraps if you'd like to make a gluten free version of this recipe.