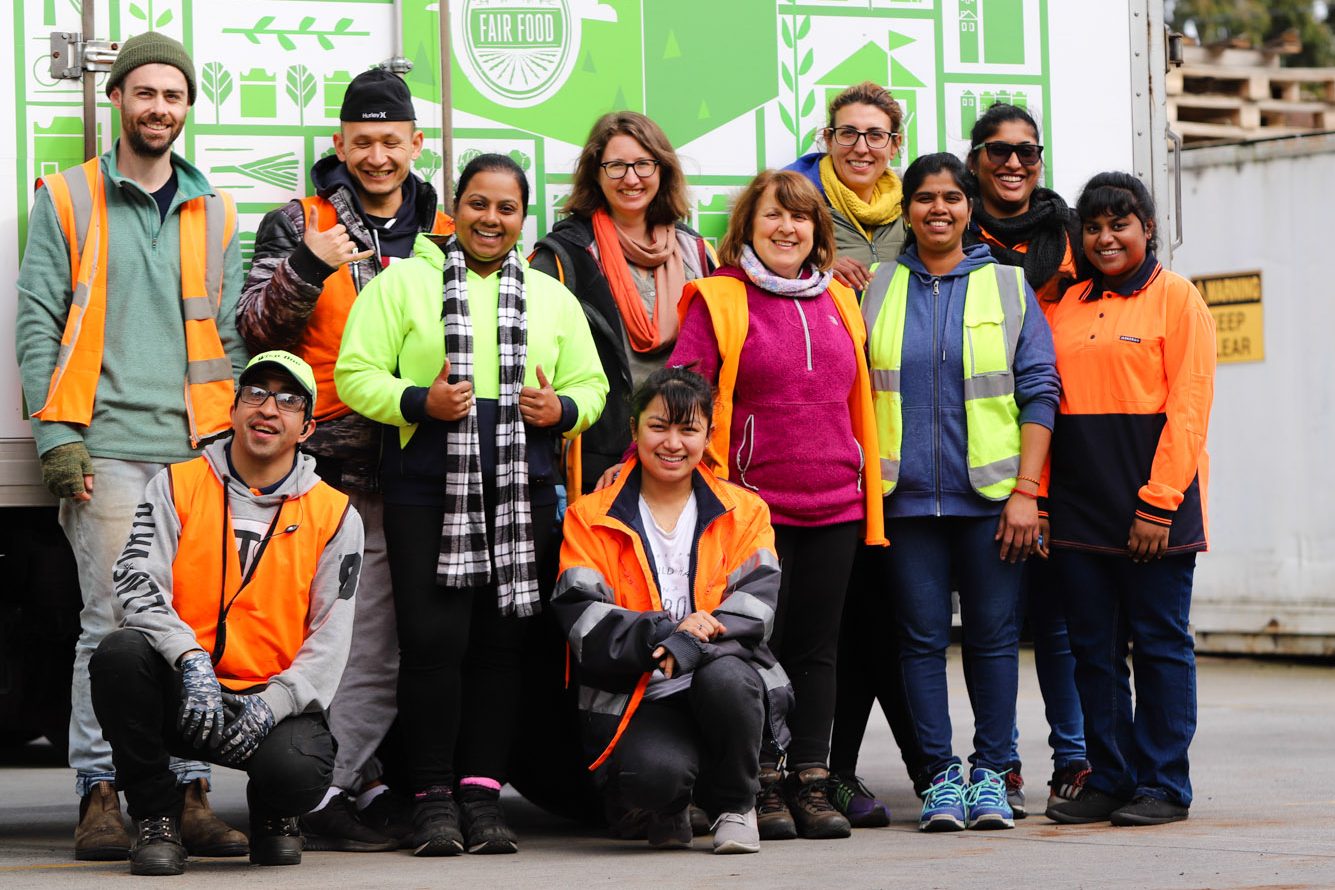 Our team
CERES Fair Food provides employment opportunities and career pathways for new migrants, with around one third of our staff coming from asylum seeking backgrounds.
With a varied workforce of folks from 25 countries of origin, we aim to recognise everyone's strengths and differences equally, offer good and stable work in a supportive environment, and genuinely lift each other up. There's so much for us all to learn from each other.
Our producers
Our farmers are conductors of soil, sun, seeds and water. Our makers take ingredients to create foods that nourish and products that delight us. We encourage them when they start out and we stick with them through good seasons and bad.
If you'd like to share what you grow or make with the CERES Fair Food community, please get in touch with us!
For organic produce email Joshua buyer@ceresfairfood.org.au
For all grocery items and artisan products, email Kitty webstore@ceresfairfood.org.au
Our story
Fair Food was kind of an accident, it started life as a weekly veggie co-op for the staff at CERES Environment Park in Brunswick East.
Each week a couple of co-op members would pack fruit and veg into boxes on a picnic table outside the old quarry hut where CERES' teachers have their office.
There were no ambitions for the co-op; it was just an easy way for CERES staff to have access to affordable organic fruit and veg.
Word about the staff co-op got out and somehow within a couple of years CERES was supplying ten little neighbourhood co-ops in the inner-North.
When the GFC hit one of the Rudd Government's stimulus efforts was the Jobs Fund – its purpose to provide start-up grants for social enterprises that could employ people – lots of people.
With some start-up funding I dreamed that maybe we could turn our group of co-ops into something amazing like Toronto's Good Food Box or Brisbane's Food Connect.
We applied, got picked and rented a warehouse in Northcote and employed thirteen workers.
Almost half of Fair Food's original employees were people seeking asylum, the rest were refugees from the mainstream, including an ex-Satchi & Satchi marketing executive who, luckily for us, knew something about eCommerce.
When I counted our payroll for the 2020 financial year and Fair Food employed 67 people – 29 of them were either seeking asylum or had recently migrated to Australia.
Having a job is a big deal. Having a job when you're new to a country with no family or networks and English as a second language is a really big deal.
From CERES Grocery to our new warehouse we bought a philosophy of supporting local farmers which has carried through to today.
Over the last nine years, according to my back of the envelope calculation, I reckon Fair Food has spent over $20 million dollars buying food from over 200 organic farmers, grocery makers and wholesale suppliers (we have 150 on the books at the moment).
When we started out Fair Food was given a helping hand by some of the stalwarts of the organic industry.
In time we've paid that forward and supported young farmers and makers to grow their businesses from part-time hobbies into serious operations.
Some have become good friends, others do their time and move on to something new and some have simply passed away.
These days Fair Food is supported by a network of around 40 volunteer Food Hosts and about 5000 regular customers – some of you have been with us since the co-op days some of you will have joined this week.
On behalf of the all the farmers, makers and suppliers, all the people who have found a job here and from CERES (see below) where Fair Food's profits go to help people fall in love with the earth again – whichever you are, thank you.

Chris Ennis, Founder and General Manager
What is CERES?
In 1982 from the passion and commitment of the local community CERES (pronounced 'series') was born on the banks of the Merri Creek – a 10 acre ex-tip site transformed into an organic farm, community garden, environmental demonstration centre and kids playground. Today CERES runs extensive environmental and cultural education programs for children and adults, with approximately 1 million people visiting the Brunswick East park, learning in affiliated schools or interacting online.
CERES is recognised as an international leader in community and environmental practice and has won many awards including the United Nations Australia World Environment Day Award and Premiers Sustainability Award. It proudly maintains its financial and political independence, largely through it's social enterprises including Fair Food (that's us!), Fair Wood, Joe's Market Garden, CERES Nursery, the Merri Cafe, and the Organic Grocery and Bakery. Find out about them all here.