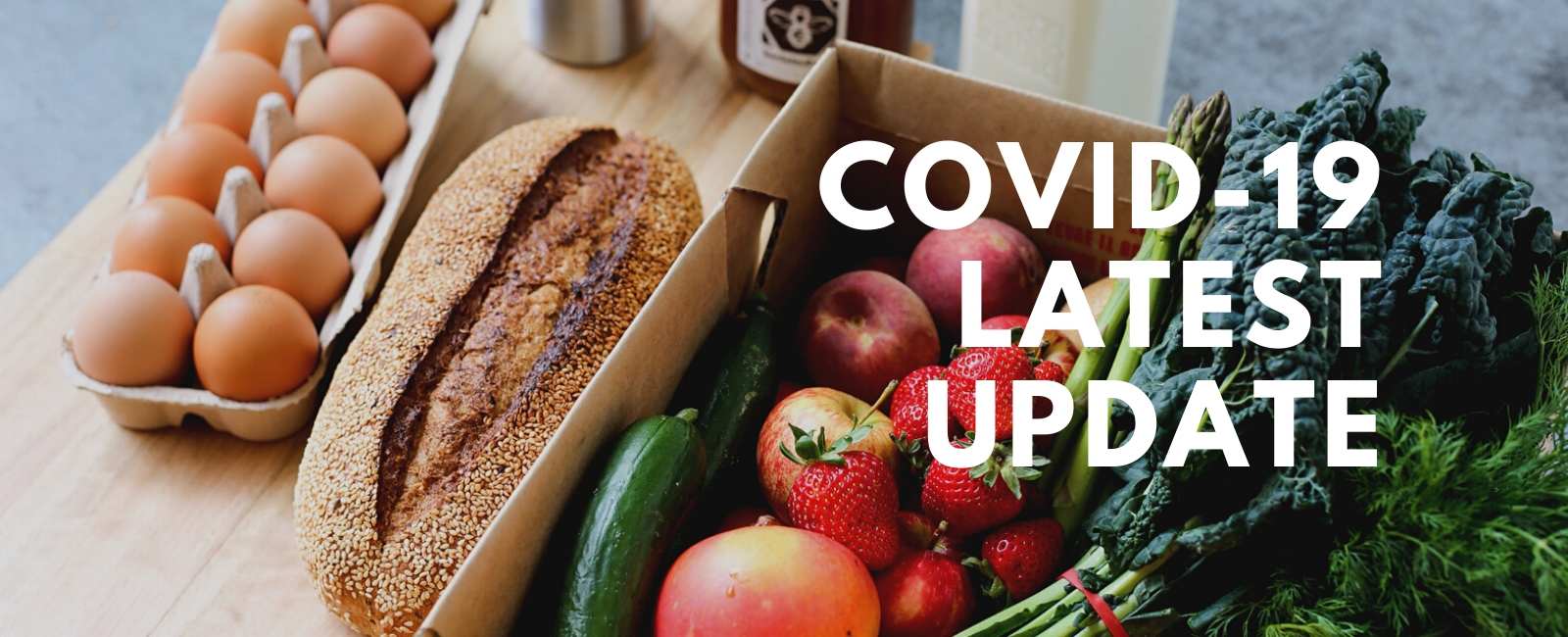 CERES FAIR FOOD & COVID-19
We're extremely grateful to be able to keep connecting households with quality, organic groceries – thank you for trusting us to support you and your loved ones.
With orders skyrocketing almost overnight and shopping habits becoming almost unrecognisable, we've had to quickly adapt. Temporary changes have been implemented to ensure we can continue to look after our team and our existing customers.
We cannot thank our community enough – we've been blown away by your encouragement, understanding and willingness to adapt alongside us.
Below is a recap of our temporary changes as they now stand. This will be updated as required, so check back here at any time!
Delivery dates
Delivery dates are currently booked out one to two weeks in advance – available delivery dates will be advised at checkout.
Please be aware of this when ordering and choose your calendar date with care! We are unable to bring orders forward for you.
The number of deliveries for each day has been capped to help us cope with demand. If you are unable to place an order for a given day, please try a later date on the calendar and know we are doing our absolute best to accommodate everyone.
New signups
Unfortunately we're unable to accept new customers for the time being. We invite you to join our waiting list – you'll be the first to know when we're able to expand our current service.
Email reminders
Now is an excellent time to turn on EMAIL REMINDERS (tick the box in your account profile) to ensure you are getting important updates in your inbox.
In addition, you can receive our regular newsletters in your inbox, full of seasonal recipes, weekly specials, and news from our team. Simply subscribe here!
Editing an existing order
Now back to normal! Customers can edit all existing orders (including adding items) up until the usual cutoff time – 12noon the day before delivery.
To check the date of or edit an upcoming order, simply go to the 'My Orders' tab when logged in.
Swapping between a Food Host and home delivery is also possible here, noting that any delivery fees will be adjusted accordingly.
Changes to set boxes
During this time we have streamlined our ready-made fruit and veg options. Our set boxes are currently limited to:
Mixed Fruit and Veg (small, medium, large)
Veg Only
Fruit Only
These set boxes will be made with the best mix of organic produce available each day.
'What's In The Box', our usual list of items to expect, won't be posted at this time.
Due to rising costs, we have had to increase the prices of the 5 boxes above (by $5 & $10 depending on size). This is to ensure that we're able to fill each box with the same quantity of fruit and veg that you expect, particularly when the importance of home delivery is so high.
We have (or are still in the process of) contacting anyone with an upcoming order of our temporarily paused set boxes. We apologise for this inconvenience, and thank you in advance for your understanding.
*Note, orders can still be made up of individually selected fruit and veg items. Or choose a combination of a set box and 'pick your own'!
Pricing changes
With unprecedented demand and unpredictability, along with big buy-ups from larger players, the price of some fruit and veg has risen dramatically. As a result we've had to raise some of ours, most noticeably on set boxes (see above) and some individual fruit and veg items.
Fair Food is committed to fair prices and transparency. Please know we are only passing on a portion of the increased costs that we are currently facing. We will continue to review and update prices as things settle down.
Deliveries
The health and safety of our team and community is our highest priority.
Our drivers are currently practising contactless delivery (knock and drop) along with strict hygiene measures. All staff temperatures are logged at the beginning of each shift, face masks are worn to minimise hand-to-face contact, and hands are sanitised after each delivery. All surfaces in our vans are thoroughly cleaned between each driver's shift, and our warehouse systems have been rearranged to ensure physical distancing is adhered to. We will continue to adapt these procedures as necessary.
If you see us dropping a delivery to you, a friendly smile or a wave through the window will go a long way!
We will not be able to provide you with an estimated delivery window for the time being. We will endeavour to have your order delivered by 7pm, however some delays may occur. Rest assured that it is coming.
If your delivery has not arrived by 7pm: Please double check the delivery date that your order was booked for under the 'My Orders' tab. If it was indeed booked for today, please let us know at the office and we will follow up in the morning.
If any items are out of stock, we will credit your account and be in contact with you by the end of your delivery day.
If you require a store credit or refund due to a missing item or any other issue, we will endeavour to process these within ten business days and email you when completed.
Customer service
We apologise if you've been reaching out by phone or email, and we have not yet replied. Our small team is extremely busy with the most urgent matters, and have been unable to get back to all requests in a timely manner.
You can help by reading this up-to-date information carefully and sharing important info with others. Also a friendly reminder (especially for new customers) to check our regular FAQs before picking up the phone or sending an email.
We have also been inundated with messages of solidarity and support! For the time being please continue to share your encouragement, gratitude or non-urgent queries via our social channels!
Collections and reuse
At this time we are not collecting our cardboard boxes, please recycle them.
Our drivers will collect eskies and frozen water bottles to be sanitised in the warehouse.
Schulz glass milk bottles will also be collected and returned to Schulz Dairy for sterilisation and reuse.
We have also paused returns on refill pouches or reusable jars (except for Schulz milk) at this time.
Free home delivery
We are continuing our offer of free home delivery for all orders $75 and order, until further notice.
All deliveries to a Food Host remain free of charge, though the availability of some Food Hosts may change over this time. We will be in touch via email if your regular collection point needs to have a break.
Being mindful of others
Thank you for thinking of others when ordering and only buying what you can use, and preserve. We understand that unknown times are hard to plan for but over ordering does limit availability for those who may be more vulnerable and require supplies sooner.
That's all for now.
Our team is working round the clock to adapt to the shifting circumstances we are all in, and we're doing our absolute best to accommodate as many deliveries as possible, as safely as possible. We continue to heed all health advice and maintain stringent hygiene standards so we can continue to support our community.
Keep looking after each other. We are all stretched and challenged, but it's also a time for renewed kindness and compassion towards ourselves and others. Together we are learning how to engage even more deeply with the relationships that support us and the generosity that surrounds us.
Take good care,
The Fair Food team.