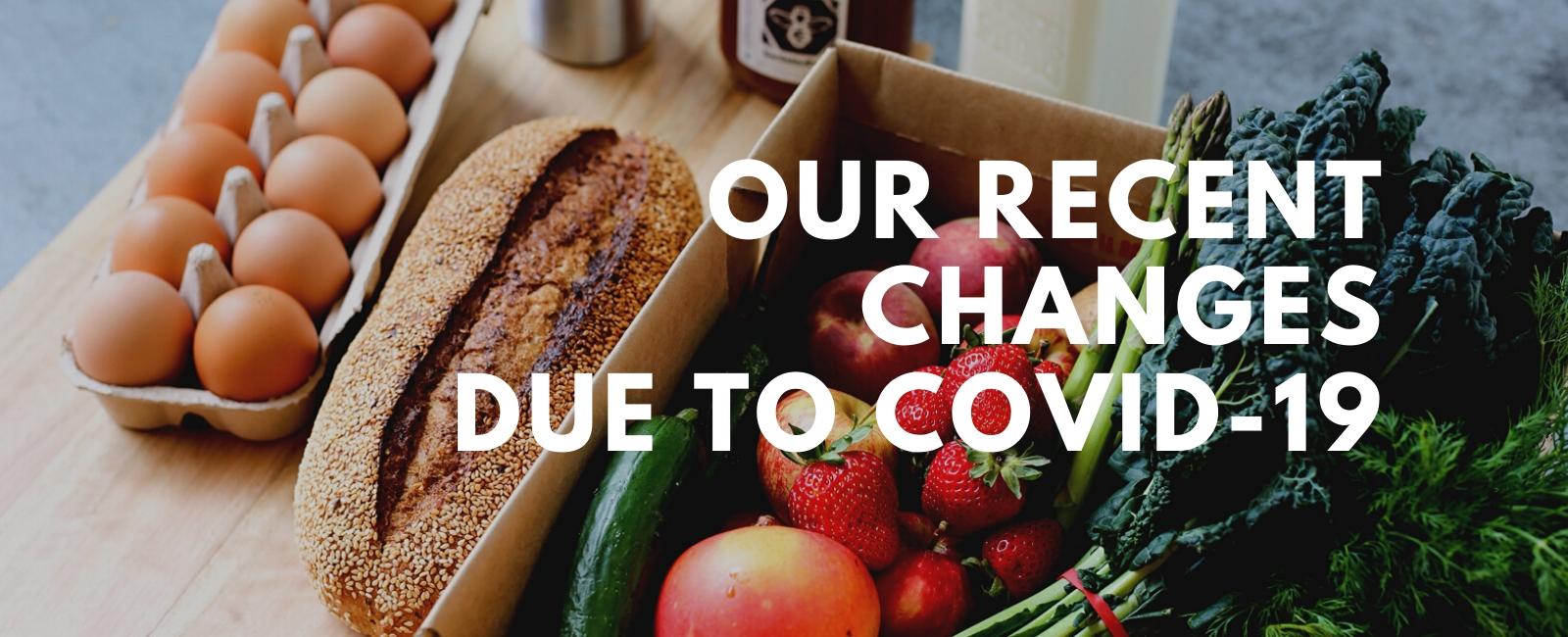 We're extremely grateful to be able to keep connecting households with quality, organic groceries – thank you for trusting us to support you and your loved ones.
Delivery dates
The number of deliveries for each day has been capped. If you are unable to place an order for a given day, please try a later date on the calendar and note that Saturdays may also be available to you.
New customers
Welcoming new customers again! Thank you all for your patience! We can't wait to deliver to you (or your friend / aunty / colleague) and do even more good at every step along the food chain.
Changes to set boxes
During this time we have streamlined our ready-made fruit and veg options. Currently, our great value set boxes are:
Mixed Fruit and Veg (small, medium, large)
Veg Only
Fruit Only
Good Gut (Low FODMAP)
Generous Cook's (regular size)
Check our What's In The Box page to see the upcoming week's selection.
Please note that due to rising costs, we have had to increase the prices of the boxes above (by $5 & $10 depending on size). This is to ensure that we're able to fill each box with the same quantity of fruit and veg that you expect, particularly when the importance of home delivery is so high.
And of course orders can still be made up of individually selected fruit and veg items. Or choose a combination of a set box and 'pick your own'!
Deliveries
You'll receive an SMS from us with a 3 hour delivery window, sent the afternoon before or the morning of delivery.
If your delivery has not arrived by 7pm: Please double check the delivery date that your order was booked for under the 'My Orders' tab. If it was indeed booked for today, please let us know at the office and we will follow up in the morning.
If any items are out of stock, we will credit your account and contact you by email by the end of the day.
Hygiene
The health and safety of our team and community is our highest priority.
Our drivers are currently practising contactless delivery (knock and drop) along with strict hygiene measures. All staff temperatures are logged at the beginning of each shift, face masks are worn to minimise hand-to-face contact, and hands are sanitised after each delivery.
All surfaces in our vans are thoroughly cleaned between each driver's shift, and our warehouse procedures have been rearranged to ensure physical distancing and surface sanitisation is maintained. We will continue to adapt these procedures as necessary.
If you see us dropping a delivery to you, a friendly smile or a wave through the window will go a long way!
Collections and reuse
We are now resuming collection of our flat packed boxes. Thanks again for your patience – we now have room for a special quarantine area to ensure they're well and truly safe before recirculation.
*Note – if you have quite a large stash we may not be able to collect it all at once, but keep the drip feed going and we will get to them.
Our drivers will also collect eskies and frozen water bottles to be sanitised in the warehouse.
Schulz glass milk bottles will also be collected and returned to Schulz Dairy for sterilisation and reuse.
We have also paused returns on refill pouches or reusable jars (except for Schulz milk) at this time.
Email reminders
Now is an excellent time to turn on EMAIL REMINDERS (tick the box in your account profile) to ensure you are getting important updates in your inbox.
In addition, you can receive our regular newsletters in your inbox, full of seasonal recipes, weekly specials, and news from our team. Simply subscribe here!
Thanks so much and keep looking after each other!
The Fair Food team.