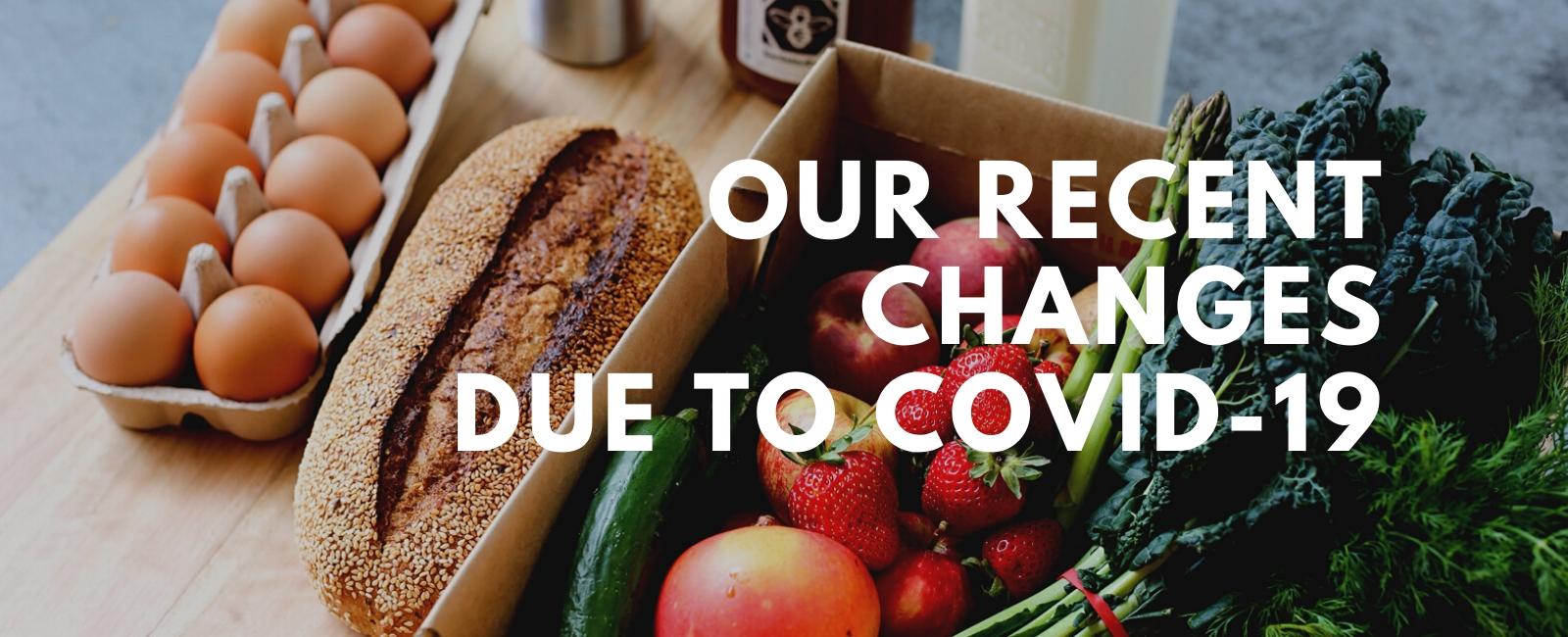 We're extremely grateful to be able to keep connecting households with quality, organic groceries – thank you for trusting us to support you and your loved ones.
Health and hygiene
The health and safety of our team and community is our highest priority.
As when receiving and unpacking any delivery or packaging, please ensure that you wash your hands appropriately and practice good hand hygiene.

The World Health Organisation advises that there is currently no evidence of COVID-19 transmission from food or food packaging. Additional Australian Food Standards guidelines can be found here.
Our warehouse staff and drivers continue to uphold strict hygiene measures, with contactless delivery (knock and drop) at your door.
All staff and guests check-in when arriving to the warehouse, with temperatures logged and hands sanitised. Masks are worn in accordance with health guidelines.
Our warehouse procedures have been rearranged to ensure physical distancing and a dedicated cleaning team ensures surface sanitisation is maintained.
All surfaces in our vans are thoroughly cleaned between each driver's shift.
Many of our staff continue to work remotely, and we support our team to stay home and get tested if unwell.
We will continue to adapt these procedures as necessary, and stay alert to any changes or recommendations for our community.
Contactless delivery
We continue to offer contactless delivery for all orders.
You can assist us and our team of drivers by remembering to keep your distance and mask up when receiving your Fair Food delivery. Thank you!
If you are required to isolate or quarantine at home, please get in touch to see how we can support you with a grocery delivery.
Note – our drivers are unable to enter lifts during strict lockdown periods.
Delivery dates available
Orders close at 12noon for Next Day Delivery, and we have a delivery capacity set for each day. If you find you're unable to place an order for a given day, please try a later date on the calendar and note that Monday – Saturday deliveries are now available for all our postcodes.
Collections and reuse
Box returns! Our cardboard boxes are collected – please flatten the ones you can and leave them out for our drivers to collect on their next visit. All boxes are UV sterilised in our warehouse before reuse.
We'll also continue to collect our cooler boxes and ice water bottles to be sanitised for reuse, along with refill packs from Dirt Laundry Detergent and Dr Planet, which will be returned on your behalf.
Glass milk bottles from Schulz Organic Dairy will also be collected and returned for sterilisation and reuse. Once collected, please email us with 'Milk bottle return – X number of bottles collected' in the subject line.
*PLEASE NOTE glass bottles will only be collected if Schulz conditions of return are adhered to. All plastic and cardboard packaging must be removed (please recycle) and bottles must be 100% clean and undamaged.
Delivery timing
We deliver between 9am-7pm. You'll receive an SMS from us with a 3 hour delivery window, sent the afternoon before or the morning of delivery.
Additionally, you'll receive an SMS when your order is expected to arrive within 60 minutes, as well as a confirmation SMS when your delivery has been made.
If your delivery has not arrived by 7pm: Firstly, please double check the delivery date that your order was booked for under the 'My Orders' tab. If it was indeed booked for today, please let us know at the office and we will follow up in the morning.
If any items are out of stock, we will credit your account and contact you by email by the end of the day.
Email reminders
Now is an excellent time to turn on Email and SMS Reminders to ensure you are getting important updates from us. Just tick the box in your account profile.
Love recipes, specials and seasonal news? Subscribe here to keep in touch on the regular – our newsletters are full of seasonal recipes, great weekly specials, and all the news from our team.
Thanks so much and keep looking after each other!
The Fair Food team.